Now that you're thinking about how your relationship can benefit from the Five-Year Marriage® you'll be thinking about the first step – the curiosity conversation – and you might be wondering what you're supposed to talk about in that conversation.
To get you started, I've created a short guide and list of questions for you and your partner – a Curiosity Conversation Beginners Guide Cheat Sheet. It's absolutely FREE.
Put your email in the form above and I'll send it IMMEDIATELY to your inbox (be sure to check your junk/spam folder if you don't see it right away).
And if you would like additional guidance on how to get started, please email me at Annmarie (at) annmariekelly.com to set up one-on-one coaching.
And you can grab a copy of my book, The Five-Year Marriage: Shifting The Marriage Paradigm from Amazon.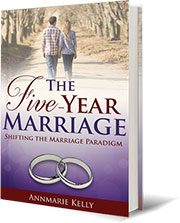 With love and in victory,
Annmarie