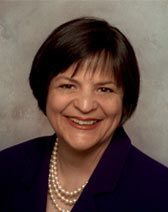 Whether she's working with corporations, women's leadership groups or professional associations, small businesses, government agencies, or with individuals, Annmarie Kelly encourages women to LIVE VICTORIOUSLY – out loud and in living color. She works primarily with women who are late Boomers and GenXers who are starting over after a life transition OR who are looking for a second chance for a successful career and a happy and satisfying life. Annmarie helps them develop their personal victory strategy for transforming adversities into opportunities. She encourages every woman to embrace the powerful "feminine victory" within by stretching out of their comfort zones and into authentic, personal leadership.
Ms. Kelly is a speaker, lifestyle expert, and victory strategist. She is the author of The Five-Year Marriage: Shifting the Marriage Paradigm, Victorious Woman! Shaping Life's Challenges into Personal Victories, Victory by Design: The Victorious Woman's Guide to Her Best Life. In 2008, she founded The Victorious Woman Project, which focuses on inspiration, education and encouragement by providing resources for "starting over" women and leadership skills for women in the workplace. She is the author of many articles on a variety of topics for women, including emotional intelligence, goal achievement, behavior-focused performance improvement, mentoring and life balance. Her articles have appeared in numerous publications. She is a professional member of National Speakers Association and holds an advanced speaking designation (DTM) with Toastmasters International. She networks with the amazing women of the PolkaDotPowerhouse and the Press Club PA.
Ms. Kelly received the Leadership Award from the American Society for Training and Development (now ATD), Philadelphia. She's been honored with the President's Call to Service Award by President Barack Obama, the Outstanding Service Award in honor of the 100th Anniversary of International Women's Day, and the Distinguished Alumni award from Neumann University.
Annmarie Kelly's most popular programs:
The Five-Year Marriage™ – the Better Way to DO "I DO"Victorious Woman!
Savvy Sizzle: How to Get Your Personal Sizzle Back
Finding Your Voice
How To Talk So People Will Listen
Somebody's in My Corner: A Woman's Guide to Real Mentoring
To book Annmarie for your next conference, retreat, or to discuss a corporate workshop, contact her at 610.738.8225 or Annmarie@VictoriousWoman.com.