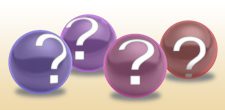 August
What's one lesson you learned during a do-over?
---
July
When you feel "stuck" what helps you get unstuck?
Click here to answer now!
Anne-Marie Loughnane says…
"Knowing deep down that nothing can really keep me stuck and keeping that feeling of happiness that nothing and no-one can provide for me only myself! I am glad I am writing this because right now I am stuck!!………….But dealing with it in this way, I know that something will happen to get me unstuck. Just receiving the VW email which prompted me to write this message is step one."
---
June
Summer is a great time to kick back a little, relax your mind and body and recharge your batteries. What's your favorite way to recharge?
Click here to answer now!
Judy Conley favorite way to recharge…
"I subscribe to a half dozen magazines in a variety of categories-food, decorating, health. In the summer, I especially enjoy finding a new magazine in the mailbox just so I can relax on my tiny screened porch with a cold drink at the end of the day before the hubby gets home and I have to figure out what we are having for dinner."
---
May
When is comes to stretching out of your comfort zone, what's one feeling or thought that might keep you from doing it?
Example: I think even though I don't like where I am, it might be worse if I do something else.
Click here to answer now!
Joanne Marciante said, "I think the greatest thing is fear – it is very real for most of us and something that would hold me back. What if I take that step out of my comfort zone and fail? I would hope at my age I would pick up the pieces and move on, but again, I don't know."
---
April
Do attitudes drive behavior or is it the reverse? It's like the old question about which one comes first, the chicken or the egg.

What do you think?
---
March
What's your favorite Chick Flick?
Click here to answer!
It's Women's History Month and many of the movies about women have inspired us. Often called Chick Flicks these movies inspire us, make us laugh at ourselves, give us a good cry…or all of the above. What's your favorite Chick Flick?
---
February
What's the most romantic thing that's ever happened to you?
Click here to answer!
For me, it's not about gift-giving is about gift-doing. Anybody can throw money at something, wrap it up and call it a day. One time my sweetie surprised me with brunch to a special restaurant followed by a tour of a fabulous historic home that I didn't even know existed. Not only did I love the two venues, but we got to be together just the two of us.

---
January
What's the biggest challenge you face with your New Year Resolutions?