The Girlfriend Gala: 2013 Victorious Woman Celebration

What Would You Do Without Your Girlfriends?
How many times have your girlfriends been your support team – and you theirs – through life's rough patches and tough times? And, when you're on the victorious side of a challenge, aren't they the BEST ones with whom to celebrate the success?
Of course they are –
and here's the place to do it!
So get your good friends together now to enjoy a fun and inspirational venue for celebrating your victories of the past year!
Sponsorship Opportunities still available: GirlfriendGala.SponshipOpportunities.2013
Here's the what's what:
Date: May 22
Time: 5:30-8:30
Cost: $50 after May 16th/at the door
Place: Edgmont Country Club. West Chester Pike/RT3, Edgmont, PA (GPS: Newtown Square, PA)
Proceeds: Home of the Sparrow and the Phil-Hanna Fund
Food:
Chocolate Tasting by Lindt Chocolates
Gift Bag: Filled with goodies
Entertainment:

MC – Annmarie Kelly
Comedy by Theresa Hummel-Krallinger
Inspiration: Victorious Woman Honoree Carol Kivler

Silent Auction

Phillies Package (Includes tickets, Diamond Club, parking)
Business Coaching with Carol Kivler, Kivler Communications
Yoga Toes Relaxation Package

Raffle

Ease-Up Deep Tissue Massage
Lindt Chocolate Basket
Strappy's Designer Bra Straps
Adea Cami Combo
…and that's just the beginning!

Donations are coming in daily – check back to see the latest goodies!
Sponsorship Opportunities Available!
Contact Annmariekelly@victoriouswoman.com for details.
Here's what people said about the 2012 Gala!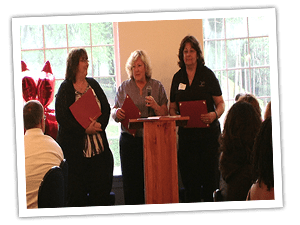 We are already talking about getting a table together for next year. Loved the comedian!!! – Charlene
[We] became instant friends with the 'prosperity sisters' and are all looking forward to getting together again. I thoroughly enjoyed myself and learned a lot in the process. – Carol
Thank You!!! It was a different kind of night… I think that everyone is looking and searching out something… – Pam
The gala was a huge success. You did a superb job as emcee. It was uplifting, inspiring, and funny. – Helen
Great event last night. Thanks! – Sheryl
I thoroughly enjoyed every minute! I started your book last night. Couldn't wait! I spoke with our shelter supervisor about getting you and your message here to the women at Safe Harbor…Thanks again for doing all you do and for choosing Safe Harbor to benefit from this event. – Gina
What a great evening last night was…What a great treat the three sisters were and Theresa is so funny plus the two charities are great causes. – Pattie
I had a great time tonight! It was a nice break in my hectic schedule. The people at my table were terrific. You are amazing, Annmarie. You are a fabulous host and when you talk it is so real. – Maureen