This book has been described by some women as a cross between inspirational and self-help and by others as a "blueprint for life".
First, there are the stories: Ten of the eleven Victorious Woman chapters tell the stories of women – probably just like you – who got into and out of difficult circumstances. Maureen was abandoned by her spouse and left with five small children, no job and no money. Patti was diagnosed with multiple cancers – all at the same time. Kathy was a single executive who gave up everything for the man of her dreams – only to learn he wasn't what she thought, but not before she was broke, jobless and homeless.
Then, there are the Stepping Stones, the lifestyles that either support or sabotage your victory. Once you understand how your lifestyle affects your success, you'll learn the "Six Critical Skills" that every woman must learn and the Victorious Woman Model.
The compelling stories might make you cry but they will also touch the victorious woman inside you, and make you want to step up into your own victories. The Stepping Stones, Six Skills and Victorious Woman Model will explain what you need to take your next steps to victory and success!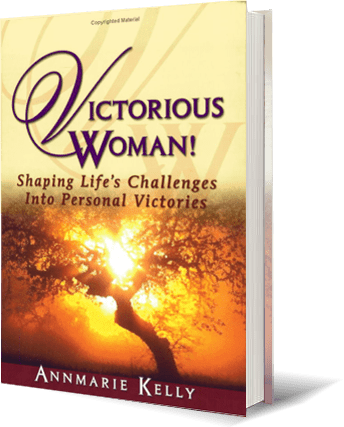 Only $16.95!
Buy on Amazon

NEW!! Victorious Woman E-book is now available at
Amazon Kindle for only $9.99!
Learn More

Watch the book trailer (left)
Read reviews on
Goodreads.com or at Amazon.com
Review from "The Book Worm" Blog
Review from DA Bale Publishing
Buy it now! Only $16.95!
NEW!! Victorious Woman E-book is now available at Amazon Kindle!
NEW!! Victorious Woman E-book is now available at Amazon Kindle for only $9.99!
Reviews and Comments about this Book.
This is well put together and the end-of-chapter material is particularly supportive. Judge's editorial commentary,
Ben Franklin Awards

Recommended Reading!

Houston Woman Magazine

IT IS FANTASTIC! I'm finding myself questioning some of my life choices but then that's the whole point, right?
S. Eisele,
Human Resources Manager
The feelings leapt off the pages as I remembered my own experiences and how I was able to rally and come alive again. Thank you for the inspiration to all women!
J. Bennett,
Bookkeeper
Coaching style questions help the reader explore her own situation and then take action toward her own victories.
Divine Magazine for Women

I've immensely enjoyed reading Victorious Woman, and I want to thank you again for the gift. I began to read the book at a time when I needed to receive the confirmation and encouragement that your illustrious characters share through their testimonies.
Renee D. Sumby,
Association Director
My attention was captured by each woman's experience …and I found myself not wanting to put the book down.
C. Tharp,
Business Owner

This is a wonderful, touching book. I can think of several woman friends to whom I would like to give it (and a couple male friends, too). It has something for everyone and universal appeal.
Judge's commentary,
Writer's Digest Book Awards

Victorious Woman! [has] been helpful to me as I've sought to gain insight and understanding in a society where paycheck and fairness often do not meet. Join a victory team.
Gayle Aldrich,
Lutheran Woman Today
The feelings leapt off the pages as I remembered my own experiences and how I was able to rally and come alive again. Thank you for the inspiration to all women! – J. Bennett, Bookkeeper

This new book…will give hope to other women who need to know that they can do it…with patience, persistence, prayer and a whole lot of courage.
Azriela Jaffe,
Harrisburg Patriot-News