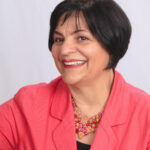 Pour yourself a glass of wine, mix a mojito or splash some scotch over ice and join the fun with Annmarie Kelly and her latest expert guest as they talk about things that matter to midlife women. Annmarie interviews a wide variety of experts, some who tell stories of victory, others who inform or motivate and still others who will make you laugh. They talk about the trials and triumphs of mid-life reinventions, empty nests, aging parents, relationships, money and…sex!
Most Happy Hour listeners tell Annmarie that what they like most about the guests is that the on-air conversations sound just like the ones they have with girlfriends over lunch, tea or happy hour.
Happy Hour Radio is now available as a podcast on youtube! Catch up on past episodes & don't forget to subscribe! Victory Chicks Radio Podcast.

---
Friday Happy Hour Guests:
 

September 7 : Daphne Maxwell Reid

 You know her as the "second Mrs. Banks" on the Fresh Prince of Bel Air. But did you know she was a 70's activist and has expanded her career to include designer, photographer and chef? We'll be talking about all Daphne's many reinventions on this week's Friday Happy Hour.

August 31: Lisa Scottoline

Author Lisa Scottoline needs no introduction, especially with her fervent fans in Chester County. She is The New York Times bestselling author and Edgar award-winning author of 31 novels, including her latest work, AFTER ANNA. She also writes a weekly column with her daughter Francesca Serritella for the Philadelphia Inquirer titled "Chick Wit" which is a witty and fun take on life from a woman's perspective.
Lisa is coming to the Friday Happy Hour to talk with me about her newest novel, After Anna. I'll also be asking her about Rosato and DiNunzio, and stories from her weekly column in The Philadelphia Inquirer….and more! If you love Lisa, you won't want to miss this Friday's Happy Hour with 

Annmarie

 Kelly. Learn more about Lisa on her website: https://scottoline.com
You can find After Anna on Amazon: After Anna/Hard Copy and After Anna/Kindle
Local theater is a bright spot in most communities. But what do you know about the behind-the-scenes? That's what we're finding out at this week's Friday Happy Hour with Swarthmore's Hedgerow Theater's Director Emeritus Penelope Reed and the up and coming playwright Jane A. McNeil.  Jane's first play, Dishman Springs is being performed at the Hedgerow Theater starting on September 14. Tickets are $20 and can be purchased online: Dishman Springs
Penelope Reed is the Director Emeritus of Hedgerow Theater. A fourth generation theater artist, Ms. Reed distinguished herself in many roles as leading actress, director and master teacher at The Milwaukee Repertory McCarter Theatres, among others. Academic and Administration credits include

 

Alverno College and The Lawrenceville School Theatre Department Chair and Robert G. Pitman and Alan P. Kirby Art Centers where she served as Administrator. Her passion for the last twenty years has been enlightening minds and transforming lives through theater. She is grateful to be part of a company with such outstanding human beings. Ms. Reed is the former President of

 

The Rotary Club of Media.
Jane A. McNeil is an animated storyteller, playwright, and student of human interaction and behavior.  Throughout her life and conversations with anyone who crosses her path, Jane has gained a unique perspective into the human spirit, the everyday survivor, and the journey back from the unmentionable. She lives in Villanova with her husband, two kids, and two elderly dogs in a farmhouse; where coincidentally the renowned playwright, Philip Barry, routinely dined with Hope Montgomery Scott, his dear friend and the real-life inspiration for his famous leading lady, Tracy Lord, from his Broadway play, The Philadelphia Story.

 

The Hedgerow Theater is located in Swarthmore PA, just minutes from the heart of Media PA. Learn more about performances and other theater events: Hedgerow Theater Company.

 
 Does your midlife reinvention include starting your dream  business? Or do you already have a business that could use a mini-makeover? Then you need to hear from The Small Biz Lady, Melinda Emerson. She's joining Annmarie Kelly at this week's Friday Happy Hour and she has lots of ideas for you.

 

Melinda Emerson "SmallBizLady" is America's #1 Small Business Expert. Her brand reaches 3 million entrepreneurs a week online. Her mission is to End Small Business Failure. Forbes named her the #1 women for small business owners to follow on twitter.

You can find her new book Fix Your Business on amazon.com

In the midst of the tiny house phenomena, Suzi Siegel became fascinated with what was going on in her own town of Queens NY. She discovered a plethora of tiny things – including NYPD's smallest bomb-sniffing police dog, the shortest first name and an itsy-bitsy topless bar. More importantly, Suzi discovered a whole new way to see the world. Suzi Siegel is joining Annmarie Kelly at the Friday Happy Hour to talk about what she learned from Tiny New York, i). There are plenty of books about New York City. But there has never been a book about the smallest things in the biggest city.

Suzi Siegel is a former investigative report and travel writer. And, for part of her career, worked with the Philadelphia police force.

Annette Glaudel has college degrees in chemical engineering and an MBA in finance. She worked for an oil refiner for 31 years and has been busy since retiring 7 years ago. Annette volunteers for Good Works, Appalachia Service Project, the Veterans Administration, Bridge of Hope, Saints Simon and Jude Church, and her homeowners association.
Are you writing the script for your life, or is someone doing it for you? Adria Firestone thought she was having the best life – success, travel, love and more. It was all good until the day she crashed and burned. We're talking about her journey back and how she decided to become the artist of her life – and how you can too.
 Kathy McCabe is a results-driven Certified Life Coach who reinvented her career in her mid-life and has helped many other women do the same. In addition to her life coach training, Kathy has more than 20 years of experience in the corporate world working as a litigator and law-firm partner, and also as a small-business entrepreneur. Kathy loves to help women find more real joy, empowerment, and purpose in their every day lives. Find Kathy on her Website and on Facebook 

How do you deal with the tough stuff of life? Leslie Handler does it with humor. We're talking with Leslie about her life and how she manages to give even the bad stuff a light touch.

Leslie is a 2015 Society of Newspaper Columnists award winner. She's an international syndicated columnist with Senior Wire News Service and a frequent contributor to WHYY and CityWide Stories.  She freelances for The Philadelphia Inquirer, ZestNow, and Boomercafe, as well as blogs for HuffPost. Her book, Rats, Mice, and Other Things You Can't Take to the Bank, is available on Amazon and where other fine books are sold. Leslie currently lives smack dab between Philadelphia and New York City with husband Marty, dogs Maggie, Hazel, and Ginger, a collection of fish, said husband's cockatoo who she's been trying to roast for dinner for the last 33 years, and a few occasional uninvited guests. You may follow her blog and read previously published essays at: LeslieGoesBoom.com.

July 6: Better than Bacon

What's better than a midlife reinvention? Better Than Bacon! Three members of this fun improv group are joining Annmarie Kelly at the next Friday Happy Hour. They're talking about their comedy experiences as improvisational performers. And doing a little comedy in the process (they just can't help themselves!)

June 29: Susan Rose

Happiness ain't for sissies! Though it sounds like being happy should be easy, too often choosing to be happy can require some gutsy moves. That's what we're talking about "Gutsy Happiness" with Susan Rose at this week's Friday Happy Hour.

Susan Rose is a happiness coach who helps women gain the clarity, courage and confidence to create a joyful life. She does this by helping women create mindset shifts and concrete action plans based on her client's dreams. Susan is based in Reston, Virginia and works with women nationwide.

Learn more at gutsyhappiness.com

After years of assisting inventors with product safety issues and China manufacturing, Edie started writing about inventors. But her own reinvention is one you'll get a kick out of. This author of Fanny on Fire has a lot to say about reinventions, midlife and more.
You know her as the "second Mrs. Banks" on the Fresh Prince of Bel Air. But did you know she was a 70's activist and has expanded her career to include designer, photographer and chef? We'll be talking about all Daphne's many reinventions on this week's Friday Happy Hour.

June 8: Christi Cavallo

This show is going to be more fun than usual!

Psychic Christi Cavallo will be doing mini-readings for almost the whole hour. You can call in any time. If the line is busy, call back. Here's the call-in number: 610-701-9243
Christi Cavallo's work for the past thirty years has been helping others find peace in their lives by answering their deepest questions, lending a guiding hand through their challenges and connecting to those who have passed. Her mission and purpose is to awaken each one of her client's spiritual power and guide them through recognizing their own unique abilities and gifts. Check out her website: Christi Cavallo

June 1: Kristen Edens –

Kristen Edens, like a lot of people, had a change of fate after the 2009 financial meltdown. It affected her career, her finances, and her marriage. But, you know the saying, you can't keep a good woman down. Kris story is as inspirational as it is practice. If you're thinking about a reinvention or a new/next chapter, you'll like Kris' story.

 

Kristen Edens, is a personal finance and business expert helping those over 50 manage the new midlife.

May 25: Julie Benezet

 
 This is a "best of the Friday Happy Hour" from earlier this year. This show was about things that might keep you from your goals –and this is a great time of year to revisit those and the behaviors that might be keeping you from getting what you want. We all know that life moves fast and, in spite of our best intentions, life can through us a curve ball. In a world where change is constant, fear and insecurity can keep you from moving forward. Former Amazon executive Julie Benezet will show you a new approach to the scariness of the unknown and show you how to use it as a way to build a better future.
 
 Are you a Spunky Old Broad? If you aren't, this show may turn you around. At this week's Friday Happy Hour, we're talking reinvention with a twist with the original Spunky Old Broad, Gayle Carson. Tune in and find out what you're missing!
Dr. Gayle Carson is affectionately known as Dr. Gayle, S.O.B. Spunky Old Broad. She believes in being the YOU, you can be. Having worked in 50 countries and 49 states, she now hosts 16 radio shows a month and appears on TV at least twice a month. An author, coach, speaker and media personality, Gayle believes women are like fine wine–they get better with age.
FB: spunkyoldbroad1 or gaylencarson Learn more:  spunkyoldbroad.com
 
Do you need a manners tune-up? Are you wondering what's still important
(like thank-you notes) and what you can let go? And, in this era of social
media, what do you tell your kids to is good manners? In this season of
weddings, graduations, and parties, manners and etiquette expert Jacquelyn Youst is joining Annmarie Kelly to give her the 411 for showing off your best self, in business and pleasure – and maybe even golf!Jacquelyn Youst is a modern manners & image expert, and owner of the
Pennsylvania Academy of Protocol. Jacquelyn provides image consulting and a fresh, fun, modern twist on teaching social etiquette. You can find
Jacquelyn at https://www.jacquelynyoust.com/
 
 How much do women know about our political history? Mary Walton thinks not enough – and she's been working to change that! Mary is joining Annmarie Kelly at the Friday Happy Hour to talk about two women who made a difference in their own day, and their contributions are important to all the Victory Chicks today. Mary Walton was a reporter for the Philadelphia Inquirer for 24 years.
 
 Happy Hour friend, Cathy Sikorski is back this week to talk caregiving, Seniors.  We'll also be talking about Cathy's new book, Who Moved My Teeth

April 20: Kristen Edens

 
Kristen Edens, like a lot of people, had a change of fate after the 2009 financial meltdown. It affected her career, her finances, and her marriage. But, you know the saying, you can't keep a good woman down. Kris story is as inspirational as it is practice. If you're thinking about a reinvention or a new/next chapter, you'll like Kris' story.

 

Kristen Edens, is a personal finance and business expert helping those over 50 manage the new midlife. Find out more about Kris at www.kristhescribbler.com  and on her Grandparents in Business FB pagehttps://www.facebook.com/groups/1696495883927556/

 
How many people do you think say, "I wish I could give it all up – or retire – and live in Tuscany – or Paris – some other exotic place? Linda Meyers, and her spouse, George, said it too. And then they DID IT! Linda and George are fifty-somethings from the Washington DC area who got tired of the rat race and wanted an adventure. What they got was an interesting combination of Eat-Pray-Love and Under the Tuscan Sun.
Linda is coming to the Friday Happy Hour to talk about how they did it and how they expanded it.
Join us this Friday for an interesting career reinvention!
 
Author Lisa Scottoline needs no introduction, especially with her fervent fans in Chester County. She is The New York Times bestselling author and Edgar award-winning author of 31 novels, including her latest work, AFTER ANNA. She also writes a weekly column with her daughter Francesca Serritella for the Philadelphia Inquirer titled "Chick Wit" which is a witty and fun take on life from a woman's perspective.
Lisa is coming to the Friday Happy Hour to talk with me about her newest novel, After Anna. I'll also be asking her about Rosato and DiNunzio, and stories from her weekly column in The Philadelphia Inquirer….and more! If you love Lisa, you won't want to miss this Friday's Happy Hour with 

Annmarie

 Kelly. Learn more about Lisa on her website: https://scottoline.com
You can find After Anna on Amazon: After Anna/Hard Copy and After Anna/Kindle

March 30, 2018: Michelle Gielan

 
We're "Broadcasting Happiness" at this Friday's Happy Hour with the woman who wrote the book on the subject, Michelle Gielan. This is the perfect pick-me-up for those mid-winter blahs!
Michelle is a national CBS News anchor turned positive psychology researcher. She's also the author of the bestseller Broadcasting Happiness, the Executive Producer of "The Happiness Advantage" Special on PBS and a featured professor in Oprah's Happiness course. Michelle holds a Master of Applied Positive Psychology from the University of Pennsylvania.
 
 Perimenopause, menopause, osteoporosis, aging, sex after menopause. They're all topics that intimately affect us as women, but we don't like talking about them. That fascinates pharmacist and menopause expert Irene Hogan because its what she talks about most. Irene believes that aging does not mean that your body has to fall apart or succumb to chronic disease. She helps women put more life into their years and not just years into their lives – and this week she's helping us Victory Chicks do it!  Learn more about Irene at www.hotchixshotsex.com and find her on fb  https://www.facebook.com/menopausehelp/

March 16, 2018

 

 Are you in your second act? Melissa Davey is. She left her job as a corporate executive to follow her passion – the Life Beyond Sixty Project. Melissa is documenting the experiences of women over sixty to find out how they are making the most of this time of their lives. Tune in to  find out how Melissa decided to make the move from the corporate world into the world of films, and how the Life Beyond Sixty Project started. https://www.beyondsixtyproject.com/

RadioWrap-Up.3.16.18: Second Act as Filmmaker

March 9, 2018

  No Show
 
 
 
 
 
Whatever possessed corporate executive Eileen Santos to leave her job, take a spiritual name and become a shaman? That's what Annmarie Kelly is finding out at this week's Friday Happy Hour. If you've ever thought that crazy idea your passionate about could never become your next chapter, this show will make you think twice.
Eileen Anümani Santos, is an award-winning and international bestselling author of Unmasking Your Soul: A Transformational Journey of Truth, Light, and Healing and contributing author to the anthology, Pebbles in the Pond (Wave 4). While Anümani spent the first half of her life in the corporate world, first as an electrical engineer, then as a management consultant after receiving her MBA from Columbia University, and finally as an executive for a non-profit organization, all that changed in 2003 when she had a mystical dream that awakened her to a deeper calling.
Learn More About Eileen
 
 We all have a lot of changes going on. Remember when it was easy to meet people at your kids' school and at work? Now, between things like downshifting into a second – or third – career,  starting a new business, or downsizing into a new house in a strange development, we lose old connections. Making new ones can be a challenge. So I asked America's Connection Diva, Bonnie Ross Parker, to join us today. We'll be talking about effective ways to start connect with new people in this new phase of your life.
In August of 2002, Bonnie created Xperience Connections®, a program supporting professional women nationwide. Her mission is to encourage and facilitate the growth, performance and integrity of professional women by creating opportunities to foster relationships through a creative exchange of information and referrals. Bonnie is the author of several books including Walk In My Boots: The Joy of Connecting

, shifting your consciousness to share yourself with others: 

Y.O.U. ~ Set A High Standard for Being Human

 showing how our journey impacts others and the journey of others impacts our own. Her most recent book, 

Discovery and Recovery: A Shared Journey

chronicles her 8-month challenge with Breast Cancer taking the reader through the entire process from diagnoses thru chemo, surgery, radiation and recovery. It is available on-line at no charge. Learn more about Bonnie here:

https://www.bonnierossparker.com

 

If you want to connect with Bonnie, she asks that you email her at brossparker@gmail.com with 1-2 insights from our Friday Happy Hour conversation

You can find Bonnie on Amazon: 42 Rules for Effective Communication

 
 Philadelphia TV icon Lisa Thomas Laury is coming to this week's Friday Happy Hour. The Emmy-winning anchor was so popular and well-loved that she was like a friend to her viewers. When Lisa left, her fans missed seeing her. We knew she wasn't well, but we had no idea the kind of hell Lisa was going through in her private life. Lisa is joining Annmarie Kelly this week to talk about what happened then, her long road back and what she's up to now.

February 2, 2018: Fran Green

 

We're starting off the "love month" of February with dating tips for singles who are divorced and looking – or thinking they might be ready now for a new love. Fran Green is a nationally renowned relationship expert. She runs a private practice working with singles who want to maximize their social life and couples who want to improve their relationship. Fran is also an accomplished online dating coach, helping singles find their perfect match via the internet.

And, if you're already married or involved, and not looking, I didn't forget you. In addition being the "breakup doctor", Fran is also the former spokesperson and director of flirting of Match.com. So I asked her to give us some tips for flirting with our sweetie.

Things could be getting hot at this week's Friday Happy Hour!

Learn more about Fran Green

Get Fran's books on Amazon: Dating Again with Courange and Confidence & The Flirting Bible

 

We're a week away from Groundhog Day and we're getting as close to Punxsutawney Phil as possible with co-handler AJ Dereume. During this Happy Hour, you'll be getting the inside scoop about:

What actually happens in Punxsutawney during Ground Hog Day
some of the stranger Punxsutawney  Phil superstitions and traditions
Some little known facts about Phil and Groundhog Day
What Phil's "Inner Circle" does the rest of the year
What you need to know if you're going to Punxsutawney next week!

Christi Cavallo will be doing mini-readings for almost the whole hour. You can call in any time. If the line is busy, call back. Here's the call-in number: 610-701-9243
Christi Cavallo's work for the past thirty years has been helping others find peace in their lives by answering their deepest questions, lending a guiding hand through their challenges and connecting to those who have passed. Her mission and purpose is to awaken each one of her client's spiritual power and guide them through recognizing their own unique abilities and gifts. Check out her website: Christi Cavallo
 
Is your inbox so cluttered that it's getting in the way of your productivity? You aren't the only one! But Success Strategist Marsha Egan says it doesn't have to be that way. She's coming to the Friday Happy Hour with a ton of tips that will help you detox your inbox. And that's not all, Marsha is also going to give you some ideas for how to give better feedback to boosting your productivity. You don't want to miss this!
Marsha Egan, CSP, PCC is a success strategist and professional coach who specializes in interpersonal impact. She's been on countless TV, radio and media including The CBS Nightly News, Fox and Friends, CNN, and was on the front page of USA Today with her success building advice. She joins us from Nantucket, where she moved 9 years ago as one of her personal life goals.
 
It's a brand new baby year and you set your goals and made some plans. But life moves fast and in spite of our best intentions, life can through us a curve ball. In a world where change is constant, fear and insecurity can keep you from moving forward.  Former Amazon executive Julie Benezet will show you a new approach to the scariness of the unknown and show you how to use it as a way to build a better future.
Julie Benezet has devoted her working life to exploring the new, building businesses helping others to do the same. She currently works as an executive coach, teacher, and author following 25 years in business and law. She speaks and writes extensively on navigating the scariness of the new and unknown in the 21st Century and decoding human behavior in the face of change.  Find out more about Julie at www.juliebenezet.com