Two weeks on Mt. Desert Island in Downeast Maine helped me to recharged and reenergize. There's something about climbing mountains that clears my mind. That's probably because I'm focused on nothing else but how to get over some boulder.

Hiking up a mountain also inspires me. No matter how many times I do it, getting to the top of a mountain and looking at the view below is still awesome!! It reminds me that all things are possible and tickles my motivation into excitement.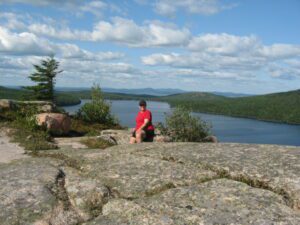 I didn't spend every moment hiking. I also read The Namesake and Rules of Seduction. Both were good, but the author of the latter really got my attention. Author Madeline Hunter is a college professor and a mom who wrote some pretty scholarly work. Ten years ago she published her first romance novel. In "Rules" the woman was strong, practical and plain speaking yet vulnerable. As a result, in spite of her compromised circumstances, she had power. I liked the portrayal; I'm looking forward to including more Hunter novels into my downtime reading.

I can't finish today without giving a shout out to Kelli and Ollie Wenger, owners of Windward Cottages. Joseph and I have stayed at the cottages on Clark's Cove for five years now, and rented the same one for four, so it's like going home. The Wengers do everything they can to insure their guests are taken care of…and do it without getting in the way of anyone's vacation. In our fifteen Downeast vacations we've stayed in other places, both on and off the island, but haven't rented anyplace else where we felt like the owners were also friends. If you want to see Bar Harbor, or hike Acadia, their cottages are THE places to go. Check them out!

And now it's back to work. I have some informative Teleseminars for you this fall, and if you are in the Wayne PA area, join me for any or all of the free lunch and learn workshops. See my events calendar for dates and times.