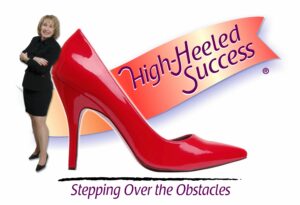 If glass ceiling issues were women's only obstacle to career success, women wouldn't still be making 77 cents to a man's dollar.  Kay Fittes is the CEO of High-Heeled Success, LLC.  She is on a mission to show career-oriented women skills to overcome self-sabotaging behaviors that put us at a disadvantage in the workplace.  It's never too late to unlearn patterns that shoot you in your high-heeled foot!
Kay is joining Annmarie Kelly for the Friday Happy Hour. You come too: March 21, 3-4PM. Live and Local on 1520AM in West Chester PA. Live and Online at www.WCHE1520.com
Learn more at www.HighHeeledSuccess.com. Get on Kay's mailing list and receive "The Expanded High-Heeled Success Test" and the Special Report "Six Self-Sabotaging Mistakes Women Make".