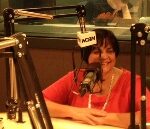 Here are some of the things I talked about on today's show:
Strawberry Shortcake: Bisquick recipe
Emma Haslam, mother and full-figured mum, pole-dancing contestant: Britain's Got Talent
Coach Julie Cohen stopped by for Happy Hour and talked about work-life balance. She had great tips, including how to deal with change, guilt and boundaries. You can learn more about Julie here: Julie Cohen and you can get her book here: 7 Keys to Work-Life Balance
Peg DeGrassa came to Happy Hour for Chick Chat. You know Peg DeGrassa from The News of Delaware County and the other Delco News Network papers. She talked about how the life is like a classroom and we are always learning. She was talking specifically about change, social media and other technology…that we have to keep up or get left behind. Good stuff!
Join us next Friday, 3-4pm, at 1520am or www.WCHE1520.com.