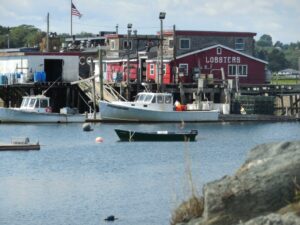 We got an early start this morning because I wanted to take a side trip to Bailey's Island and Orr's Island, two small islands in the Casco Bay off the coast of Portland. We had a quick breakfast and made a fast trip to Trader Joe's for some supplies to tide us over at the cottage until we got around to shopping. Then it was off to the islands.
I learned about them from Peggy, a Mainer who was servicing the account I use for the notebooks I add to The Girlfriend Gala gift bags. I called the company one day and could tell from Peggy's speech that she lived in Maine; I asked where. When I told her I knew her area and that I vacation Downeast, Peggy was off to the races! I furiously took notes with each "have you ever been to…" and "you can't go home without…" suggestion Peggy gave me. I wouldn't have known most of them from any book
These islands were two of her suggestions.
We could have gotten to the islands by mail ferry, but in the interest of meandering, Joseph and I decided to drive. Glad we did!
The two islands are home to a mix of year-round and summer residents. You can almost always tell which is which. There are lobster boats and traps everywhere. For a tourist like me, they added more color and interest to the already beautiful scenery.
Orr's and Bailey's are connected by the Cribstone Bridge, one of the most interesting bridges I've ever seen or walked across. It was built in the late 1920's. Its purpose was to connect the two islands. But the challenge was building a bridge that would withstand the changing tides. What resulted was a bridge made of granite chunks, connected in such a way that the water could easily pass through from tide to tide. It's the only one of its kind in the world, acknowledged as an engineering feat and listed on the National Registry of Historic Places.
I found this article about the bridge. What's funny about it is that, even in 1926, the bridge was controversial: Cribstone Bridge.
After driving to the end of Bailey's Island (Land's End), we drove back toward Orr's Island and the mainland.  Though we had a lunch up the coast already planned, were a little hungry. So before crossing the bridge again, we stopped at the Cribstone Grill for a snack – onions rings and quesadillas. It was so coastal Maine…on the water, nothing fancy, no air conditioning and open windows all around. We sat next to what was a sliding glass door. I don't know if it previously led to something, but if it did, it didn't now…but the slider was open, allowing air to come in through the screened-in half of the door. I was sitting next to it, looking out the opposite window…or so I thought. When Joseph asked me if I wanted to switch, I declined because I could see the water just fine out [what I thought was] the other window.
Just before we got our food, I used the ladies room. When I returned, I realized that the "window" through which I was seeing such a beautiful view was actually a mirror. It was right next to a side window (that actually did have a water view). Turns out Joseph and I were looking at the same scene…only my was just a reflection – and I was drinking ice tea – the non-alcoholic kind!!! Once I fessed up, we laughed at like two little kids. The people at the next table wondered what was so funny…and I think they almost asked us. I was grateful that they didn't!
©AnnmarieKelly2014. All Rights Reserved.
Feel like life is passing you by? Don't let it! Get your Future Started Today with the Victory By Design Webinar will show you how.
When you register for this webinar you'll get:
Access to a 1 hour Webinar on Oct 2 at noon with Victory Strategist Annmarie Kelly
A copy of Victory by Design – companion workbook. You'll have instant access to this and you can start working on it right away!
+3 Bonuses! Top 5 steps for making a life change booklet, Vision Board Instructions and a special invitation to Kelly's Cafe on Oct 7!
Don't forget to checkout my newly updated companion workbook: Victory by Design!
| | |
| --- | --- |
| | Victory by Design gets you out of your boring comfort zone and skyrockets you though your personal glass ceiling so you can experience the personal power that is that greater, even more fabulous expression of the real you. |
| | Easy step-by-step instructions to start changing your life RIGHT NOW! |
| | Real life examples provide inspiration and motivation! |
| | Space to write as you read! |
| | + 3 Bonuses when buy today! |

---
Stay tuned for my Upcoming Classes to help you BE MORE, DO MORE and HAVE MORE of the life you LOVE TO LIVE!
Find details on the Victorious Woman Project EVENTS page!