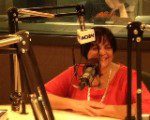 Ann Atkins came to Happy Hour today to talk about two strong women in history who changed the world: Golda Meir and Eleanor Roosevelt, She also talked about her own journey into the world of writing. Fascinating discussions!
Ann's books and ebooks are on Amazon, and she's available to give talks and do book signings. Just email her at Ann@AnnAtkins.com. And, Ann has a special offer for you: send Ann an email and mention the Friday Happy Hour with Annmarie Kelly and she'll send a free Eleanor Roosevelt ebook. That's a deal for you!!
I loved the new Nightscape exhibit at Longwood Gardens. Here's the trailer: Nightscape
And you can check out the bride whose wedding I performed on July 4 in Philly on my FB page. So much fun – and what a beautiful bride and wonderful couple!! VictoriousWomanProject
Have a fabulous weekend!!