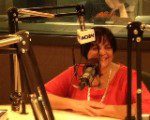 I hope you got in for a reading with Christi today. She's fabulous!
Christi is offering her special Silver Healing for Happy Hour listeners. Go there, pay for it and then schedule with her. Here's the link: Christi Cavallo
I mentioned those old magnetic albums. Here's something I thought you'd be interested in: Magnetic Albums
The movie I talked about is Somewhere in Time. You can read about it on the late Christopher Reeves homepage and rent it from the library or Netflix
When I was talking about the Pope's comments and the Vatican and money, here are two links that might interest you (although one of them is in Italian):
Tune in next week when Tracy May will be joining us to talk about her book, Keeping Mother's Secrets. Friday, February 26, 3-4pmEST.
Today's quote came right from the Bible, and it's in keeping with all we talked about:
"faith is the substance of things hoped for,
the evidence of things not seen."
Have a fabulous weekend!!