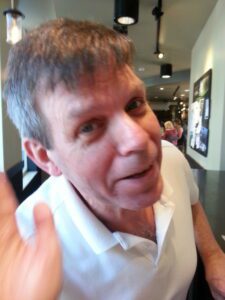 After leaving the PEM, Joseph and I got onto I95 and headed to a one-night stay in Portland…with a stop at the New Hampshire Liquor Store. Joseph bought red wine and I bought a bottle of Kracken, a very dark spiced rum that's (I think) 94 proof. Mixed with ginger beer, it's a one-drink-is-all-you-need cocktail. I also bought some Limoncello, though I don't drink it enough to know which one is a favorite. I've heard it's very easy to make, so I may give that I try when I go home….maybe for Christmas.
We got the Westin Harborview, just off Congress Street, the main drag in Portland.
The Westin staff couldn't have been nicer. As we finished our check-in, there was a little buzz behind the counter. Then the woman who was checking me in started laughing because Michelle D., another Westin staffer, came up behind her. She explained that Michelle was excited to hear my accent. "Accent," I laughed, "I don't have an accent."
Turns out that Michelle was born and raised in Conshohocken PA. She always noticed that "Philadelphia A" sound as someone who was "from home."
As we talked, I found out that Michelle moved to NJ when she got married. But when they started having kids, they couldn't find a house in a nice neighborhood in their price range. They were frustrated.
Meanwhile they started visiting the friend of her spouse who had moved to Portland. They liked Maine and saw it as a good place to raise their kids. And they could afford a house in Portland. So, being young and open to the adventure, Michelle and her family moved to South Portland.
Once she got through the first winter, and got acclimated, Michelle got used to life in Maine. Now she says she isn't likely to move back. In fact, her father has Stage Four cancer and is dying. When he does, they've already made a plan for her mother to move to Portland with her.
Michelle and I talked for a long time while Joseph parked the car. I told her about Five-Year Marriage® and she was saying that her spouse has always talked about the problems with making a lifetime commitment. We talked about how things change…and how that wedding day commitment wears out over time.
It was fun talking to her, but Joseph and I hadn't eaten since breakfast. So we were anxious to get some dinner. Michelle suggested we try a burger place called "Nosh" and it was only a couple blocks away. It was Friday-night busy and loud. We had to wait for a table, but it wasn't too long before we were seated and Joseph had a Maine-made beer and I was sucking down a dark and stormy. We got a couple of perfectly cooked bacon burgers with a "special sauce" and shared an order of "bacon-dusted" fries.
Joseph and I walked back to the hotel and stopped by the 15th floor pub. We didn't really want anything more to drink, but I wanted to see what Portland looked like all lit up at night. So we decided to share a dessert. Next year, if we do this again, this is where I'd go to have a few drinks. It was convenient.
By the time we got back to the room, we were ready to enjoy the "heavenly bed" and a good night's sleep. I don't know what the Westin thinks makes them "heavenly" but anyplace where I can get a good night's sleep on the road could qualify!