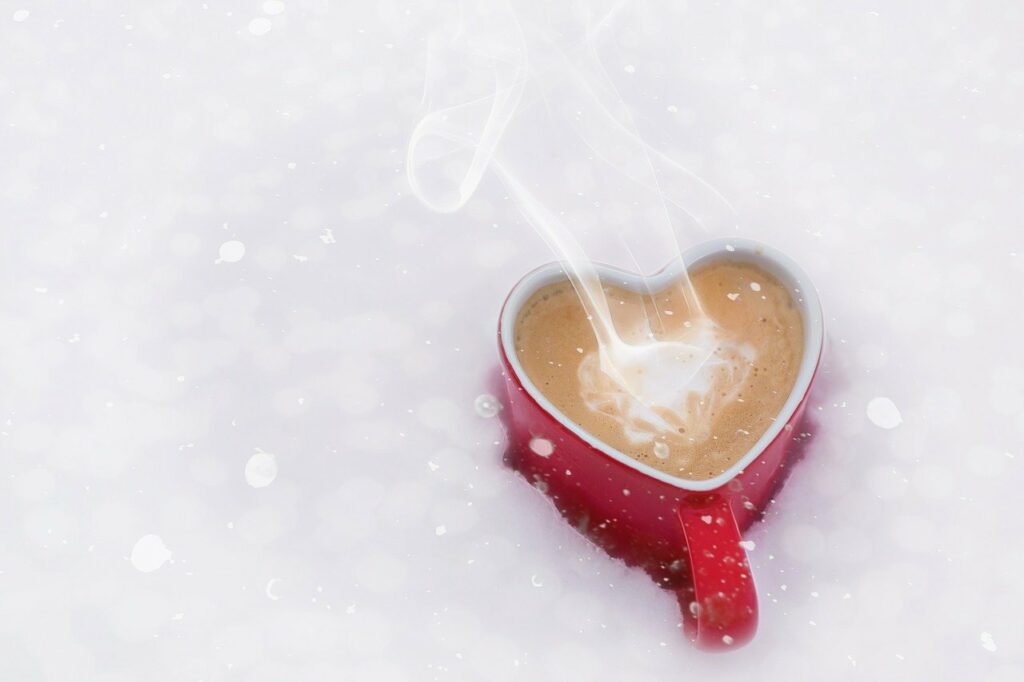 So, it's Valentine's Day and you're single and unattached. Can you still fall in love? Actually…YES! But how and who with? As one woman, who reinvented her life after 40, recently explained, she's been hurt too many times so now she only wants "BIG LOVE."
Big Love???
What she meant was not one-on-one romance, but love for the world…for the planet…for all the human race. You get, right? BIG LOVE.
I agree with the big love part – love for others who is experiencing life on the big planet the same time that you are. Also, love for those who went before – not only your direct ancestors, but all the women who walked a tough path and opened it for you. In my life I think about celebs like Katherine Hepburn, Mae West and other women who wouldn't accept life in the roles others said were theirs. love those women. my idea is having BIG LOVE for yourself…your own heart, your own accomplishments, your own frailties. Being able to do that is REALLY BIG!
However, BIG LOVE can also be the kind of love you need to give to yourself. So many times we think love has to come from outside – loved ones, friends, colleagues, neighbors. Yet the truest and most satisfying love comes when you have BIG LOVE for yourself. Start here:
Valentine's Day Tips for Women
1 – Make a decision to fall in love with yourself again.
Yes, that's right – with yourself. Too many times we take ourselves for granted and make others a priority. Take some time to let your unconscious mind know how important you are…to you! A few years ago I found a children's book (Take Heart My Child) that was beautifully written by the author for her unborn daughter. How can you not feel good reading, "May you strive to be happy, change your course if you're not, Embrace the world's colors, Colors others forgot." Or, "And if you stumble or the path grows too steep, Take heart, my child, Trust yourself, take that leap."
Taking some time to express your love for yourself – for how your body work and how amazing your mind is – those are great for your self-esteem and self-confidence!
2 – Take yourself out for a date (or, for covid, have a special dinner in).
Do you have a special food – like Maine lobsters or tiramisu? Treat yourself once in a while. Or go to your favorite place and order your favorite meal. Don't think you'll savor it alone in a restaurant, then do takeout and, when you get it home, set a nice table, put on music you love, and have a candlelight dinner. Follow it up with some chocolate red wine or hot chocolate spiked with peppermint vodka.
3 – Make it a good night.
After dinner, curl up with a good book, a favorite mushy movie or binge-watch a series on Netflix. My two recent favorites are Schitt's Creek and Last Tango in Halifax. I also love watching The Holiday…with my favorite-ever movie line: "Iris, in the movies we have leading ladies and we have the best friend. You, I can tell, are a leading lady, but for some reason, you're behaving like the best friend."
Falling in love is good – so go BIG…with the one person you are always with, who knows how hard you work, and who can appreciate you the most and the best.
One last thing…dont forget February 15th is Chocolate Sale Day!
If you're a candy lover like me, you know that the day after Valentine's, February 15, is a red-letter day for you because all the stores sell the Valentine candy at half-price and by the 17th, at 75% off. I'd love to not know that, but I do…and I stock up on Russell Stover coconut nests (in whatever form they're in this year) and peanut butter cups. Yes, it's true, I'm a little too excited about Valentine's candy…
Have fun loving yourself this holiday weekend!
With love and in victory,
Annmarie
Are you Starting Over, Reinventing for Your Next Chapter, or Making a Midlife Change?
Then join the Savvy Sizzle 'No Regrets' Master class!
In this 4-week class, I'll take you, Step-by-Step, through the lifestyle makeover that let's you reignite the passion and excitement – and hope – you used to feel.
Are you feeling old, depressed, like your best days are behind you, and there's nothing good to look forward to anymore? If you want to add some jazz and savvy sizzle and take those 'shoulda, 'coulda, woulda' dreams and make them happen, you need to join my Savvy Sizzle Master class! Sign up for my newsletter and I'll let you know when and how. Do it here: Newsletter
Looking to Connect with other Midlife Women?
Join my Victory Chicks Private Facebook Group
Follow Victorious Woman on Facebook: https:facebook.com/fiveyearmarriage
Follow Annmarie on Instagram: https://www.instagram.com/annmarie/ or Twitter: https://twitter.com/AnnmarieKelly​
Subscribe to Victory Chicks Radio & Podcasts:
https://www.youtube.com/channel/UCRvlD2OkHa05E0aaKolvlTg​​