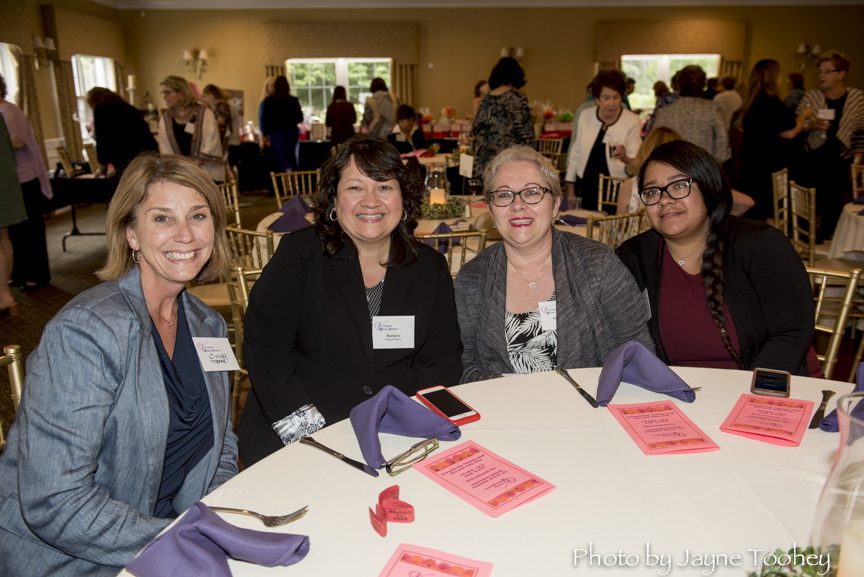 Everyone had a great time last night at the Victorious Woman Celebration! There was a happy buzz at the Edgmont Country Club with women sharing their many victories through life restarts, career reinventions, family challenges and so much more. The happy energy of victory was palpable.
Victorious Woman Honoree Cristina Fontanelli knocked our socks off with two songs, which she sang acappella! And she's one soprano who needs no microphone – I'm guessing they could hear her on the links – and if they could, they got a treat. I know we did. But her wonderful talent isn't why she was our honoree. Read Cristina's story at Victorious Woman Honoree
To all of you who made the night so wonderful…THANKS!
…to all our guests. Whether you came because I know you from a presentation or workshop, a victory team, a book signing or I work with you in some way – it was wonderful that you joined the party. All of us at the Victorious Woman Project thank you for your kindness and generosity and so does the Phil*Hanna Fund, to whom all the proceeds were donated.
…to Edgmont Country Club's Pam Mariani for the hospitality, great food and for organizing a cool auction. I never even heard of some of the wines she donated but others did and she made good picks.
…to my cousins Maryann and Carolyn – it warmed my heart that you were part of the celebration.
…to our wonderful vendors who had the best stuff:
Robin from Boutique Warehouse in Edgmont, Animal Artist Andrea Agresta, Sisters Sue and Carol who brought their to-die-for Prosperity Cakes for everyone to feast on. Those two victorious chicks joined a group near their cake display and were the life of the party at that table, Author Elaine Kelly, and Author Leslie Ehrin
Special shout out to Maureen Ingelsby, mother of five, whose "abandonment in marriage" story in Victorious Woman continues to inspire single moms. Her kids are grown now and Maureen has a great reputation as a top agent with Keller Williams – earning kudos from Philadelphia Magazine as one of the "Realtors you can trust" in the western Philadelphia suburbs. Wish she could have stayed longer, but she had to go back to work and help some buyers. She's always working hard for her clients!
So looking forward to next year! Save the Date now – you won't want to miss it: May 17