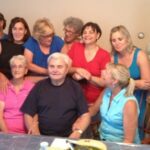 Last weekend my cousin managed to get a lot of us to Wildwood NJ. Cousins came from as far as Florida and Colorado. It was a planned surprise for her mother, "Aunt Tilly" who turned eighty in March (she's in the first row, pink shirt) but it was a treat for all of us.
The reunion was the first time most of us were all together since we were kids. I figured out that, once we were in our teens and stopped going places with our parents, we started to drift apart. Then families started moving away and, for years, different cousins kept in touch but not everyone did. In recent years I mostly only heard about cousins when something bad happened, like when someone died.
Reuniting with Successful People
During this special weekend I found out that the craziness that each of us grew up with turned out a lot of successful people. Us girls talked a lot about how our mother's generation believed that a woman's job was to be a homemaker – and anything else wasn't respected or appreciated. Almost in rebellion, we all became powerful women who are teachers, business owners, nurses, social workers – all of us using our gifts in very special ways.
Reconnecting through Conversation & Food
But, as we talked and learned, dotting every conversation was lots of laughter. And, being Italian, there was food all the time. If it wasn't a meal, it was Italian Love Cake, pizzelles, bundt cake, donuts, pretzels…the table was never empty. And, once the sun went down, neither were the wine glasses.
Throughout the holiday weekend, the feeling of love and togetherness was palpable. It was over way too fast.
Capturing the true nature of the Day
When I got home, I downloaded the pics and this is the one and only one that turned out. At first glance, I was so disappointed when I saw it because everyone wasn't looking at the camera when the pic was snapped. Then I looked a little more and realized it was perfect. What you see in this picture is exactly how the week went (click on it to see everyone). We spent most of the time around the table in front of us. When we were all together, it was constant conversation. While in the middle of whole group conversations there were mini "do you remember…?" conversations and side "what are you doing now?" conversations with whoever was sitting next to us. And some of the guys got distracted. Not only was baseball and golf was on constantly but some of the topics of conversation were (understandably) not always of interest. But that didn't mean they didn't stay connected.
Thank you!
The upshot of all the good stuff of the weekend was that we all enjoyed it and I think we'll plan to do it again. Maybe not every year, but maybe we won't wait twenty-five years.
To Joanne: Thanks for making it all happen – and for keeping is a secret from your mom since last fall. You gave your mom the best gift, and the one thing she really wanted. I know your mother thanks you – AND your cousins thank you!