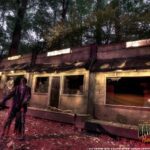 Arasapha Farms looks like any other house or farm on Middletown Road in Glen Mills and most of the year it is. But from late September to early November, it's transformed into what ABCnews called the "trilogy of terror." It includes a Haunted Hayride, Corn Maze and the Bates Motel. And this is no run-of-the-mill haunting. The Bates Motel is listed in the top fifteen of haunted houses in the world.
As a member of The Press Club, I got to take a behind the scenes tour. Owner Randy Bates (yes, Bates is really his name) couldn't have been nicer or more informative. First he took us on the Haunted Hayride, then around the child-centered petting zoo and finally into the Bates Motel haunted house. I have to admit, even in the bright sunlight of late morning and without any the actors or the special effects working, it was gory and scary! More than once I found myself grabbing a dangling severed leg.
The fascinating part of the behind the scenes tour, however, was hearing how Randy, his son and the rest of his crew put the hayride together. Randy grew up on the Arasapha Farms and moved back there with his family when his mother needed help with the farm. He doesn't live in his childhood home, but one of his sons does. That son was only two years old when Bates first started the haunting, and he's very involved with everything scary.
Randy, his son and his crew design all the different scenes for the hayride and haunted house and make almost all the gross and scary buildings and characters right there on the Arasapha grounds.
During the Halloween season, Randy employs about 125 actors and almost as many staff. He even has and EMT staff and an operating fire truck – which he bought from Craig's List for $9K – on the scene for any possible problems.
The Bates family plans each scene to be scary but one that you can take the whole family to. So if you're looking for something scary this Halloween season, give this a try.
BTW: Randy said the worst time waiting in line is Saturday night. The least crowded time is on a Monday or Tuesday night around 7pm. And if you go then, you can get a discount coupon right on the Bates Motel website.