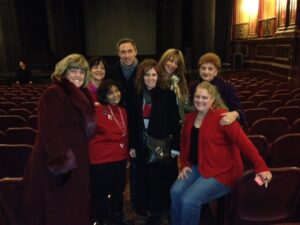 Last night I went to the Media Theater to see Joseph and the Amazing Technicolor Dreamcoat. I'd never seen it before so I wasn't expecting what I saw. It reminded me of Jesus Christ Superstar and Godspell. And there was a reason for that. It was written by Andrew Lloyd Weber (who also wrote Superstar). It first came out in 1968…3 years before Superstar…but wasn't on Broadway until the 1980's. And it didn't pack the same punch of superstar. (prototype)
But it was that same high energy. And the star of the show was Kyle Lowder. You might know him as Brady Black from Days of Our Lives or Rick Forrester from the Bold and the Beautiful. He's really good and the show's really good! If you've never seen Joseph, it's interesting because the star (in this case, Kyle) is shirtless through most of the show. And he's the kind of guy who should go shirtless…abs, pecs…all there in all the right places. He must work really hard to get his body in that kind of shape.
And, after the show, Kyle chatted with my group from the Press Club PA. That man was probably exhausted but he came down and talked to us for 10-15 minutes. And what did he talk about – our recent snowstorms and our frigid weather. Kyle grew up in New York, so it's not like he didn't know snow. But all those years in California made him forget how cold it can get here. And, when you see the picture, you'll see he was clearly not dressed for the freezing weather. That's me standing next to Kyle.
So, if you're looking for something different to do this holiday season – especially if you have kids or grandkids – this is a good pick: www.mediatheatre.org/‎