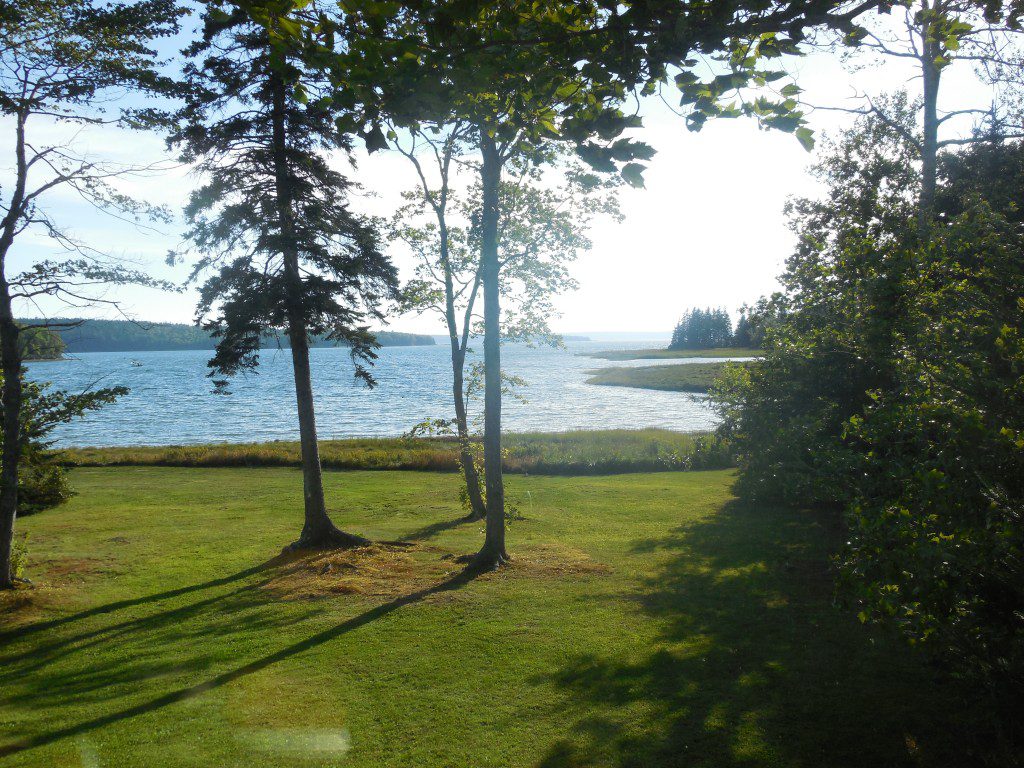 Leaving West Chester around 8am, and after a quick stop at McDonald's for an Egg McMuffin and Wawa for tea, we headed north. It's about a thirteen hour drive from my home in PA to Windward Cottages in Town Hill Maine. We've done it in one day, but usually we stay overnight in Portland on the first night so we can meander around the coast on the 2nd day.
There's something about a long drive that helps push the "reset" button for both my mind and my relationship with Joseph. Hours of being in the car alone together slowly helps us to unwind. Also, before we leave town, Joseph and I make a library stop for an audio book or two. This year we chose James Patterson's Honeymoon and also I brought along my Mary Morrissey Prosperity Plus CDs.
But, for most of today's trip, we listened to music. We started with Michael Crawford's On Eagle's Wings. It was calming and centering for the early part of the day. Then we worked our way through the decades: Rosemary Clooney, Patsy Cline, Beatles…and by then I was ready for some Janis Joplin. As it happened with Patsy Cline, I didn't get into Janis until long after she was dead, but I'm so glad I did! You ought to hear me rock Piece of My Heart. OK, no you shouldn't…it would be punishment. So you're better off listening to Janis singing it. And nobody sings Summertime like Janis.
We were pretty jazzed up – and hungry – by the time we stopped at the Sturbridge Cracker Barrel. Though it was well after lunch time, breakfast is my favorite meal and I can get it anytime at Cracker Barrel. It's true comfort food and we almost always get good service.
Next stop: the New Hampshire Liquor Store. Joseph loaded up on red wines and I bought rum and Kahlua. Liquor stores are like Disneyland for Joseph. He brings a list of red wines people suggest and gets a kick out of poking around at differnt ones, talking to the store people, etc. However, today we were mostly in and out. We were meeting our friends, Robert and Micheal, for dinner in Ogunquit and we'd gotten stuck in a couple traffic tie-ups. Two of them were due accidents that happened ahead of us – one was with a boat that was hanging half on and half off its trailer. I felt so sad for the drivers. But because of the backups, we were about an hour behind schedule.
We drove over the bridge into Kittery Maine at just about 6pm. By then I was anxious to visit with my friend Robert Coles , who is a very successful realtor with Realty One Team Wunder in Ogunquit Maine. I met Robert when I ran the corporate university for the local Better Homes and Gardens real estate affiliate in PA & NJ. His stepmother, Sue, was the relocation specialist and our offices were in the same suite at the corporate headquarters. One summer Robert interned for me and he was fun to have around. We lost touch after Sue died from ovarian cancer. Then, a few years ago, for some reason, Robert got on my mind. A checked with "my friend Google" and discovered that he was selling real estate in Maine. After a few reconnecting emails we made a plan to connect while Joseph and I were in Maine. Since then, visiting with Robert on our way up is a regular part of our trip.
Tonight Joseph and I caught up with Robert, his partner, Michael, and "the boys from Boston" at Roberto's Restaurant. Joseph and I were sooooo ready for a drink, something to eat and good company. We got all three as soon as we arrived at the restaurant. Appetizers were on the table already and I was laughing hysterically even before I got my first scotch rocks. By the time the perfectly prepared Osso Buco arrived, what little stress was still inside me was gone.
In addition to selling real estate, Robert and Michael own Extraordinaire, a fabulous boutique. Last year I saw "bathing beauty" figurines but didn't buy any. They haunted me all year, so I'm getting them this year. I was hoping to get to the store before it closed, but didn't. I'll pick them up on the way back – wait'll you see them – sooooo cute!
Around 9pm we said goodbye to the guys and traveled on to Portland for our overnight. Joseph and I are both happy, relaxed and excited!
©AnnmarieKelly2014. All Rights Reserved.
Don't forget to checkout my newly updated companion workbook: Victory by Design!
| | |
| --- | --- |
| | Victory by Design gets you out of your boring comfort zone and skyrockets you though your personal glass ceiling so you can experience the personal power that is that greater, even more fabulous expression of the real you. |
| | Easy step-by-step instructions to start changing your life RIGHT NOW! |
| | Real life examples provide inspiration and motivation! |
| | Space to write as you read! |
| | + 3 Bonuses when buy today! |

---
Stay tuned for my Upcoming Classes to help you BE MORE, DO MORE and HAVE MORE of the life you LOVE TO LIVE! Find details on the Victorious Woman Project EVENTS page!