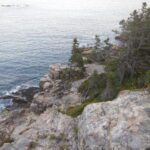 "Are you going to Maine again?" and "Do you go anyplace else?" Those are two questions I frequently hear when I tell people I'm going to Maine for my vacation. My friend Robert calls it a pilgrimage; it makes me laugh. But Robert could be right.
It started about 18 years ago. I was wrapping up a particularly long job and I wanted a good break. Joseph and I planned a two week driving vacation and were going to Quebec to revisit our honeymoon haunts. Around the same time I'd heard about a place called Block Island and I wanted to see what kind of place it was. The distance between the two was too long for a day's drive, so I needed to find someplace in between to hang out.
I still remember leaning over the map of New England spread out on my living room floor. I looked for the half-way point between Canada and Rhode Island, meandering along the coastline. When I came to Bar Harbor I said to myself, "Hmmm…I've heard of that place." Except I couldn't recall a single thing I thought I'd heard. To this day, I think it was "divine guidance" or something just as good.
That year we got to Bar Harbor on a Sunday night. We checked into the Fairfield Inn and looked forward to exploring the next day. To our disappointment, when we woke up the next morning, it was pouring rain. I sat in the hotel room and watched a chipper Katie Couric on the Today Show laughing about something; I didn't think anything was funny that morning.
Happily, the sun came out the second day and we drove around. We were amazed by the breathtaking  beauty. We decided we'd come back the next year for vacation. And we did. That year Joseph and I fell in love with Mt. Desert Island. Since then, except for a couple years when a vacation wasn't in the cards, we've been here.
This year I want to share it with you. So here they are, the Maine Diaries – a recap of my adventures in Maine!
Don't forget to checkout my newly updated  companion workbook: Victory by Design!
| | |
| --- | --- |
| | Victory by Design gets you out of your boring comfort zone and skyrockets you though your personal glass ceiling so you can experience the personal power that is that greater, even more fabulous expression of the real you. |
| | Easy step-by-step instructions to start changing your life RIGHT NOW! |
| | Real life examples provide inspiration and motivation! |
| | Space to write as you read! |
| | + 3 Bonuses when buy today! |

---
Stay tuned for my Upcoming Classes to help you BE MORE, DO MORE and HAVE MORE of the life you LOVE TO LIVE! Find details on the Victorious Woman Project EVENTS page!