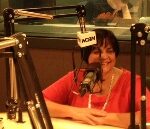 Next week is Mental Health Awareness Week. Thanks for Carolyn Flood for shining some light on the almost taboo subject of mental illness. Carolyn is a licensed professional counselor who practices with a non-profit Mental Health agency in Phoenixville, PA and also has a private practice in Malvern, PA. If you want to connect with Carolyn, her private practice e is located at 20 Mystic Lane in Malvern, PA. You can reach her by calling 610-304-4296 or emailing her at malverntherapist@gmail.com
Thanks too to Doreen McGettigan. If you want to know more about Doreen and her book, Bristol Boyz Stomp, you can find her here: Doreen McGettigan
I talked about an article and a video. Here are links to both: Ezekiel Emanuel and This Week with George Stephanopoulos
Also, I mentioned Suze Orman and the advance directive. The info isn't available on her site right now, but here's a link that will help you: Caring Connections
Here are links to two articles Doreen and I talked about:
https://www.medicalnewstoday.com/releases/194453.php
https://www.neurology.org/content/early/2013/11/06/01.wnl.0000436620.33155.a4.abstract
Did you enjoy this episode of Friday Happy Hour? Then you'll love Victory by Design!
| | |
| --- | --- |
| | Victory by Design gets you out of your boring comfort zone and skyrockets you though your personal glass ceiling so you can experience the personal power that is that greater, even more fabulous expression of the real you. |
| | Easy step-by-step instructions to start changing your life RIGHT NOW! |
| | Real life examples provide inspiration and motivation! |
| | Space to write as you read! |
| | + 3 Bonuses when buy today! |