Happy Hour Radio – Empowering Women
Once again, the amazing psychic Christi Cavallo joined us. I hope you got on for a reading. But in case you didn't, or you did and you want more, Christi is giving Happy Hour listeners a special offer! Scroll down to the bottom of this post for a certificate that gives you $10 off on a 30 minute reading! I'm getting one as a Christmas gift for someone. Maybe a psychic/spiritual reading will solve one of your gift-giving conundrums!
Refill your Soul with Music
If you're interested in the concerts next week, here's the info: Media Chamber Chorale. 
And here I am with my wonderful cousins: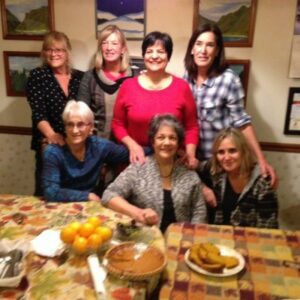 Concerningr Deaths among Young Men
Also, I talked about a report from the Center for Disease Control about deaths among young men. Take a look for yourself: CDC.BlackMen and CDC.WhiteMen
And I talked about an article and a video. Here they are: Rolling Stone and Frederick Wilson
Special offer for Victory Chicks
Here's Christi's Special Offer:
Special Offer from Christi J. Cavallo
This certificate gives you $10 off a $75.00, 30 minute reading as a Winter Fallback customer appreciation!
407-625-7564 | cjdc518@aol.com | www.reflectionsfromanangelseye.weebly.com
Call for an appointment. (expiration date: December 31, 2014)
Call and reserve your time. Mention this certificate!

Wishing you peace, balance and harmony… Christi
Medium/Psychic/Clairvoyant | Reiki Master | Animal Communicator