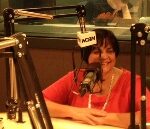 Today was all about Women's History Month as we talked "Pink Think" with author and femorabilia collector, Lynn Peril.  She's the author of Pink Think: Becoming a Woman in Many Uneasy Lessons, and two other books. Her column, the Museum of Femoribilia, appears in Bust magazine, and she is a regular contributor to Hilobrow.com. Here's her website: Pink Think
And if you want to play "smart" games with your kids or grandkids this weekend, try iCivics. It's the brainchild of  Justice Sandra Day O'Connor. It's pretty fun while being educational: iCivics Website
Here's a link to President Ronald Reagan's 1987 Proclamation: Women's History Month
If you're looking for some crazy with Friday the 13th superstitions, check out Weird Superstitions 
Here's today's quote from Carly Fiorina:
"When you challenge other people's ideas of who or how you should be,
they may try to diminish and disgrace you.
It can happen in small ways in hidden places,
or in big ways on a world stage.
You can spend a lifetime resenting the tests,
angry about the slights and the injustices.
Or, you can rise above it.