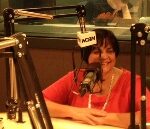 It's the first day of spring and we have MORE SNOW! Can you believe it?? Well, author Hal Borland said, "No winter lasts forever and no sping skips its turn." I hope he's right!
Survival Essentials for Midlife Women
Today we had Jean Back from Survival Essentials giving up tips about decluttering and spring cleaning. If you want to connect with Jean, for projects big and small, you can reach her at 610-804-8646 or jean@survivalessentials.com.
In my monologue, I talked about Irish Soda Bread. If you want the recipe, here it is…and enjoy!
Mama Morrissey's Irish Soda Bread. Here's the recipe

5 cups of flour
6 teaspoons of baking powder
1 1/2 cups raisins
1 cup of sugar
1 teaspoon baking soda
3 cups buttermilk
dash of salt

Mix all the ingredients well. Pour into a cast iron skillet. Start baking at 400 degrees for 15 minutes, then reduce heat to 300 degrees and bake for 1 hour.
Cool for one hour before cutting into slices. It's really good with melted butter.
If you try this recipe, let me know what you think. You can comment below.
If you are in business for yourself, or even if you just want to get into the news, join the Press Club PA for tomorrow's workshop, "How the News Works"
Celebrating Midlife Women: Girlfriend Gala
And, if you want to know more about The Girlfriend Gala and get your early bird tickets, go here: THE GIRLFRIEND GALA
My quotes for today were about spring cleaning and came from Gretchen Rubin of the Happiness Project and Singer Jill Scott.
"Don't let the perfect be the enemy of the good. Lower the bar.
Actually spending ten minutes clearing off one shelf is better than
fantasizing about spending a weekend cleaning out the basement." – Gretchen Rubin
"I did an internship at the Arden theater company in Philly after dropping out of college.
I was earning $165 a week building sets and cleaning the toilets.
Cleaning toilets is a good way of getting in touch with your creativity.
That's when you find out if you got anything going on in your head." – Jill Scott
May you get ready creative this weekend but do it in small chunks 🙂 and thinking of VICTORY!
Annmarie