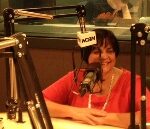 Christi Cavallo was back at Happy Hour giving psychic readings. Christi's a real treat and many listeners have contacted Christi directly for full readings. But when she comes to Happy Hour, we have a great time…with readings and Chick Chat.
Christi offered a special to Happy Hour Listeners. Just for this weekend, Christi is offering a 2/1 special on her 30-minuute readings. You don't have to get the reading this weekend, just pay for it and set it up. Here's what to do: go to the website, pay for the "Silver" @ $100 and pay for the service.  When you contact Christi to make the appointment, tell her you are a Happy Hour listener to get the 2/1 special. Here's the site: https://reflectionsfromanangelseye.weebly.com/payments.html
If you're interested in the Phil-Hanna Scholarship at DCCC, check it out here:
https://www.dccc.edu/admissions-financial-aid/fiInancial-aid/scholarships/list#AlliedHealth
And for that list of Republican prospective Presidential candidates: https://2016.republican-candidates.org
Have a great Memorial Day Weekend –and fly your flag!