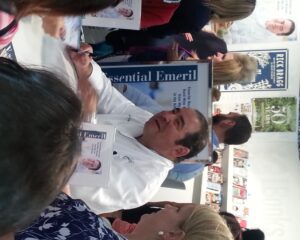 No sooner was The Girlfriend Gala over that I was on my way to New York City and Book Expo America. If you've never been, it's an experience! And it's a packed venue.
The experience started on May 27. I was signed up for the all-day Blogger's Conference with the exhibition hall opening in the afternoon.
The conference was good but I had to laugh at how few panelists could connect with a live audience. All of them were known bloggers and have great connections with their online community. But, in front of a live audience, and these online divas demonstrated how much they could benefit from some time in a Toastmaster Club or with a speech coach. Personally, I think that's one of the greatest problems facing the Millennials and other online celebrities.
I'm not sorry that I was there. In fact, I learned a few things at the conference that you'll be seeing in action in the near future.
In the afternoon, I met Emeril Lagasse. He was so personable and nice – not so easy to be when you have 200 books to sign and fans to meet. Actually, he wasn't signing books. At Book Expo, it's really tough to get a cook book, signing or not. What Emeril was signing instead was a recipe for Blueberry Beignets. I posted it here: Emeril's Recipe.
Let' me know if you try it!