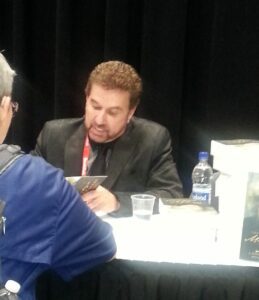 J. Randy Taraborrelli. You might not know the name but you would recognize Randy from shows like Access Hollywood and Entertainment Tonight.
He's considered the foremost authority on Michael Jackson. A journalist and biographer, Randy has also written biographies of the Hiltons, the Kennedy's, Elizabeth Taylor and Marilyn Monroe (just to name a few). Most of his books are best sellers. Recently, he also appeared in "The Secret Life of Marilyn Monroe" documentary on A&E. That is also the title of the book he signed at Book Expo.
Randy is from Ridley Park in Delaware County PA. AS best as we could figure out, it was one of his cousins whom I taught at St. Madeline School. His sister lives in my town of West Chester.So we had a nice connection. And Randy said he'd love to do my radio show.
So, his next book is about Beyonce. When that book comes out in the fall, Randy's going to come to Happy Hour in the fall to talk about it. Stay tuned!