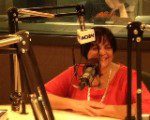 Naketa Thigpen from the Thigpro Company joined me to talk about careerpreneurs. You might be a careerpreneur and Naketa has a variety of things that can help you, starting with the tips she gave us today. You can learn more here: Thigpro
I talked about the Republican debates that happened yesterday, one in late afternoon and the other at night. My personal favorite in the debates was Carly Fiorina, the former head of Hewlett-Packard. She's a midlife woman who is putting herself out there. She's smart and savvy and going toe-to-toe with the other prospective candidates. If you want to know more, check her out: Carly Fiorina
Today's quote came from Sarah Ban Breathnach, who says,
"What if you began to expect the best from any situation?
Isn't it possible that you could write new chapters in your life with happy endings?
Suspend your disbelief. Take a leap of faith.
After all, what have you got to lose but misery and lack?"
Here's to losing the misery and lack and writing fabulous chapters that make midlife the BEST time!!