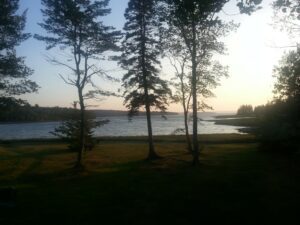 I waited years. Even tried to grow one….thought it wouldn't happen. But, finally! I saw one!!
Joseph and I were in Bar Harbor at 8am so we could get to Barr Island. It's a small island across from the village of Bar Harbor, only accessible by foot twice a day. At low tide the water recedes to unveil a wide walking path across Frenchman's Bay allowing hikers to explore the island's charms. It's one of those things that has to be timed pretty tightly. Once the tide starts rolling in, it quickly covers the path and the only way back is by boat or kayak…or waiting until the next low tide. There are stories of people being marooned on the island and Mainers joke about them.
Joseph and I didn't want to be one of those and we thought we'd go with a ranger. But when we got to the town slip…no ranger. So, after checking low tide charts, we decided we had plenty of time walk over and back.
It was a decent stretch of the legs and I was glad for the early morning cardio. Joseph and I walked the bar and hiked to the summit where I took some pictures of the coastal village. It was OK, but nothing to write home about, until, on the way back…there is was…
Until today, I've only seen pictures of them and have yearned to see their beauty up close. They bloom in late spring and are long gone by the time I get to Maine. I've tried to grow them at home, but it's just not the right weather.
But today…today…
OK, I'll admit it. It was only one lupine in a field of dead ones. And it wasn't even fully bloomed. But it's a purple one, and it stood out like a fabulous testament to persistence and resilience! I couldn't have been more excited. I've waited years for this day!!
Joseph thought I was a little over-the-top, and yes, maybe I was. But this one little lupine made the frenzied early-morning scramble and the empty-stomach, no-water hike worth it. Now I'm even more excited than ever about being here some day and seeing a whole field of bloomin' lupines!
As we walked off Barr Island and back to the mainland, I saw two fields of cairns. On the trails, they are purposeful as they provide direction. But here they were just for fun. I loved the!
Joseph and I topped the morning off with a trip to the Mexican latte lounge for a cup of spicy hot chocolate. A nice ending to our early morning excursion! And I think I'm going to start adding cocoa and cayenne to my morning cup of tea…
Still moonin' over my first little lupine…