Upper Hadlock Carriage Trail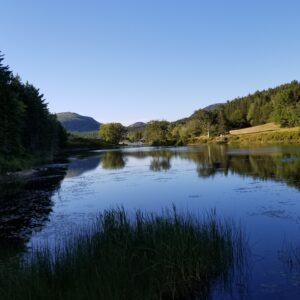 This is probably our last full day. I feel so sad that this vacation went so fast.
We took the Hadlock Pond carriage trail today. It's about 4 miles. The challenge of the trail is the beginning. It's uphill and is very steep. I had to stop a few times, just for a few seconds each time, just to catch my breath. Also, it's mostly through forest, so there's nothing much to see on the way up. It's better at the top because it passes two interesting bridges and there are some views. I'm always amazed by how stunningly beautiful the trees look from the top down.
Joseph and I talked about our favorite parts of vacation and going home. Also, because we worked on our joint vision board while we were here, we talked about some of our plans for the next year.
But the best part is, between being here later than usual and an early fall foliage, I been seeing a little of what Acadia looks like in the fall. I'm amazed at how brilliant the reds are and the oranges are so vibrant. I've seen pictures and thought they were "enhanced" but the photographer. But now I can believe that's how it is.
Peak season here is around Columbus Day, which isn't much past our anniversary.  Joseph and I decided that we'll have to plan a trip up here…maybe next year.
We had dinner at Rogue in Southwest Harbor. Joseph and I both had the special, a something-something-fall-off-the-bone pork shank. I couldn't decide on it or scallops, but I didn't make a mistake. And the chocolate ginger cake with caramel topping was amazing. Joseph and I split it. Joseph didn't think he'd like it, but it was so good that we could almost have fought over it. f I hadn't already had two dark&stormys and was pretty full, I would have ordered a second piece. I should have, and taken it home. It would have made a "last day" treat.
Then it was on to Sand Beach in Acadia for the first night of the Acadia Night Sky Festival. I'm usually never here this late, so I miss it. But because Labor Day was so late, I get to see the first night of it. And the photos from previous years: Acadia Stars
Unfortunately, the sky is cloudy and there isn't a star in the sky. But, still, there were about twenty-five people sitting on the beach in the dark. The park rangers did a great job telling us what we could see the stars were out, using a laser to show us where. They were funny and kept saying, "work with me…you know, you came here."
Even though I couldn't see the stars, being on Sand Beach at night was spectacular. Once my eyes adjusted to the night, I could see the ocean, the lighthouse on the coast, the path that we hike each year, Schooner Head…all well-known to me, except at night, each took on a different look and feel…safe and soft, like being wrapped in a blanket. It was even a little romantic…;-)
Once finished, Joseph and I got back on the one-way Park Loop Road. Somehow we missed the closest exit and had to drive about five miles to get to the road. I don't know where all the other cars went (probably passed us while I was telling Joseph to slow down…) but all of a sudden, we were all alone in Acadia National Park. At 10:30 at night, it was a little scary.