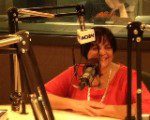 Time pressures in your love life. Brigid Schulte knows all about it and that's what we talked about today at Happy Hour. You can learn more about Brigid at brigidschulte.com. Join the ongoing discussion about making time for work, love and play on Facebook https://www.facebook.com/brigid.schulte and on Twitter@BrigidSchulte. Follow the Better Life Lab @BetterLifeLab
Looking for someplace to take your sweetie this Valentine's Day weekend? Here are some suggestions:
And here's that gushy quote from Judy Garland:
For it was not into my ear you whispered, but into my heart.
It was not my lips you kissed, but my soul."
Happy Valentine's Day!