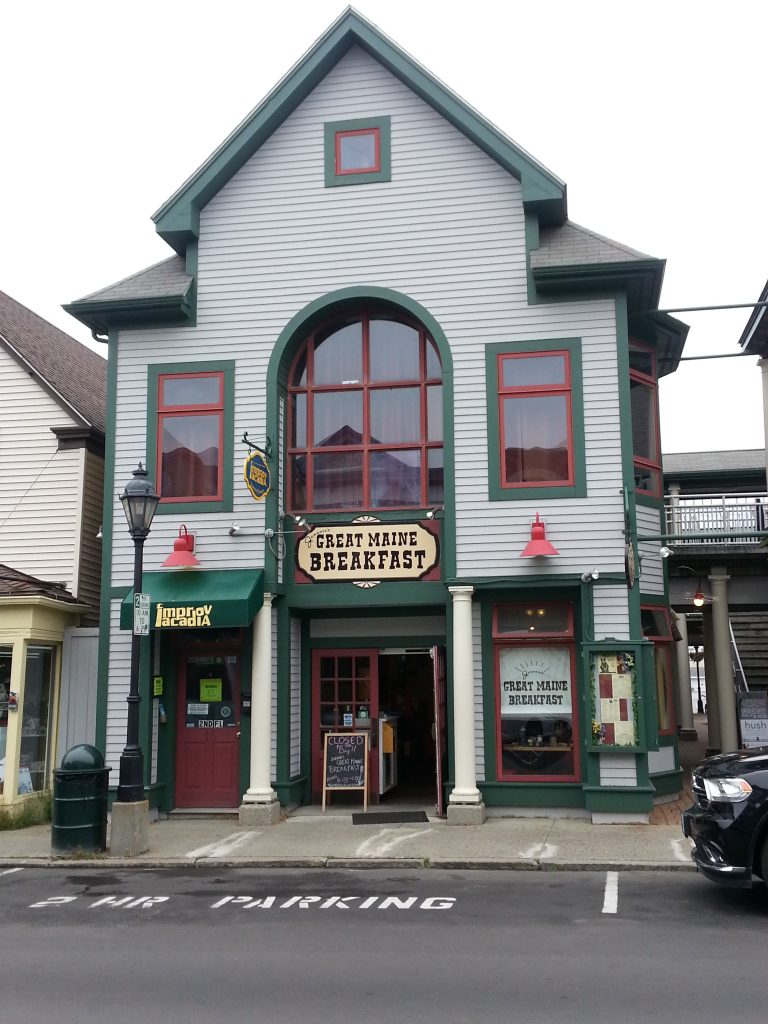 About fifteen years ago, for five years, Joseph and I rented a cottage on the Schoodic Peninsula. It's about an hour north of Mt. Desert Island but it includes one of the outlier sections of Acadia National Park. While we were there, we rented a rustic place right on the ocean. We stopped renting there because we missed the hiking in the main part of Acadia. But during the years we vacationed on Schoodic, Joseph and I got to know that section of Downeast Maine pretty well. So each year we set aside one day, usually Saturday, for a Schoodic visit.
Typically we stop about halfway in the town of Ellsworth.  Today was no exception. We enjoyed a hearty and satisfying breakfast at the Riverside Cafe. I had hash and eggs and not only was the hash cooked the way I like (a little crispy) but it was so plentiful that I ate the eggs and took half of the hash home (for tomorrow's breakfast!).
After breakfast Joseph and I took a short walk around town. We looked around to see what else changed since our last trip. Sadly the antiques place across from the Grasshopper where I bought two fabulous pictures was gone. I'm still sad when I see the place that used to be the Grasshopper Shoppe; it closed the Ellsworth location two years ago. The Grasshopper Shoppe was the first store ever to sell my first book, Victorious Woman. So it will forever have a special place in my heart (I have tons of pix of it).
But the café/art center was still there and we stopped in to see what was going on there. I met photographer Gerry Monteux who is loving his life reinvention. Gerry was born
in Maine but spent most of his life away. A few years ago he lost his job and decided to reinvent by following his passion for taking pictures. And what a great choice! Gerry had excellent seascapes and some of the most amazing pictures of moose, bald eagles and osprey I've ever seen. He was a pleasure to chat with and his photos were a feast for the eyes. I'm glad we chatted for a little while.
Next stop:  Schoodic. In the years since we stayed there, the park has expanded to include a campground and several bike trails. I don't camp and I don't bike…I'm a one-foot-in-front-of-the-other kind of girl. So it's hiking for me. One of my favorite hikes is along the Schoodic Road, between The Schoodic Institute and Wonsqueak. It goes along the ocean and has more scenic views than I can possible describe. Often, as I walk, I just look out at the ocean and can feel all my
insides go "ahhhhhh" in peace and with relaxation.
We walked until 3:30pm to get ready for one of my favorite part of this day trip – and the reason we go on Saturday. In the town of Winter Harbor, in a section called Grindstone Neck, is St. Margaret's Church. This tiny and charming oasis of religiosity in the midst of so much God-blessed beauty just knocks my socks off. St. Margaret's was originally built by wealthy Protestant summer residents of Winter Harbor for their young Irish Catholic summer help. It seats – maybe – 100 people. It offers one Mass a week, at 4pm on Saturday, from Memorial Day thru Labor Day. Usually a retired or emeritus priest, stationed at St. Joseph's Church in Ellsworth (the central parish in the area), travels her each week to celebrate mass.
I'm not particularly religious and I don't go to church every week. But there is something so special about the church service at St. Margaret's. I can't even begin to explain it, except to say that it's relaxed and homey and very intimate. I don't think I've ever seen more than fifty people at Mass. And, even though I'm only there once a year, I feel so connected to that little church. I love being there.
After mass, since it's the last service of the year, the church closes up. Joseph and I always offer to help do that job….surprisingly one of only 3-4 people who do it. All the altar cloths, bibles, sacred vessels, and candles go into the vestry. All the windows are locked and the pew cushions are pushed upright. I think helping close up St. Margaret's reminds both me and Joseph (a former altar boy) of our early days as Catholics. It's very special for me.
Today, once everything was secured, the church was locked up for the winter. We chatted briefly with the woman who is in charge. She's been there as long as I've
been going and I love that she keeps doing it.
From church we went to a bar. Isn't that what all good Catholics do? Just kidding!!! It was dinner time and we stopped for a drink and sandwiches at the Pickled Winkle. When Joseph
and I stayed up this way, the place used to be a dirtball bar. But last year we noticed that it was different and tried it out. Cheez, has it ever changed! And it's good reputation must be spreading. Even our cottage owner, Ollie, had heard good reviews.
On this trip, Joseph started with a beer and I had a blueberry martini to enjoy with an onion rings appetizer (they had the skinny kind that fry crispy!). For dinner, I ordered a chef salad and a fish slider while Joseph had pizza. Both were good and plentiful.
We finished dinner just in time to get back to Schoodic for sunset. Sunsets are often quite beautiful, and that's no surprise. But in Acadia and especially on Schoodic are incredible. And, for a special treat, as we watched the sun set today, a church group gathered to sing hymns. They weren't very loud, so the singing wasn't disruptive. Instead it was kind of comforting, in a meditative kind of way.
How could a sunset, and a vacation, get better than this??