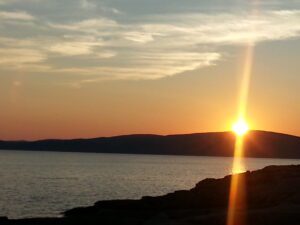 Today I'm sitting in the living room of Windward Cottage#5 in Town Hill. I know this is vacation, but a lot happened recently about The Five-Year Marriage™ book, so I took the original manuscript (which I copyrighted in 1995!) with me to see what I want to do.
What happened is that I've been getting nudges to bring this book out of mothballs and do something with it. It started in 2009 when Professor Lisa Jobs asked my publishing group for a project for her publishing class at Rosemont College. Since Victory by Design came out last year, I was going to give the class that or something to do with Victorious Woman.
At the last minute, I decided to give them Five-Year Marriage™. I unpacked it from the box it's been in since I moved in 1998. I found the original book proposal and from that put together the information Lisa asked for. I visited the class in late September and again in December. The class did good work and was encouraging. Also that year, journalist and author Helen Goltz wrote an article about the need for five-year marriage™. It was published around the world, including in the New York Time.
You would have thought that would have been enough to give a kick in the butt. It wasn't. I was taking care of my mother and Joseph was taking care of his. I forgot about it.
In the past two years, I've had more nudges than I can count. A few weeks ago I had breakfast with friend and publisher Donna Cavanagh. She was pushy about getting it done.
So, here I am on the sofa, looking out at the beautiful Clark's Cove. I just read a couple passages from the 1995 version. Joseph read them back than, but after 20 years, it was like reading them for the first time.
So…I'm restarting. Let's see where the writing takes me this time!