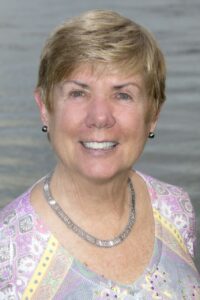 What do you want in 2018? I'll bet there's something in your goals about being happier or healthier or wealthier – and maybe all three! Karen Steil, calls those the "new trinity" in her "Church of Profitsea" thinking. Annmarie Kelly is talking with Karen this week to find out how you can use the Law of Attraction, to bring more happiness, heath and wealth into your life in the New Year.
Karen Steil was born on Einstein's birthday in 1946. She was raised in a Christian family, although her spiritual roots are Jewish and native American. At the age of 30 she had a spiritual awakening when she joined Alcoholics Anonymous and was given permission to have a "God of her own understanding." Her evolution since then has been nothing short of miraculous. She received a Bachelor's Degree in Business Administration at the age of 48, a License to Minister from Emmanuel Bible College, at the age of 50, a Master's Degree in Public Administration at the age of 59, started her own "new thought" church at the age of 63, and published a book about the evolution of her religion at the age of 71. She is currently a licensed Realtor in East Central Florida, AKA, The Space Coast.
In my monologue, I made a couple suggestions for gift "experiences" you guys can get for your Victory Chick sweeties. They included some of these:
Know someone who is getting engaged for Christmas? The Five-Year Marriage™ is available on Amazon. It's not officially out until February, but you can get it on pre-sale now…in time for Christmas.
Annmarie is "live" every Friday, from 3-4pm EST.
Call-in: 610-701-9243
You won't want to miss Happy Hour with Annmarie Kelly …and you don't have to!
In West Chester PA: turn your radio dial to 1520AM
Anywhere in the world: listen online from at www.WCHE1520.com (click the microphone that says "listen live" – uses Windows Media Player).
On your mobile devices at Tune-In Radio.Call-in: 610-701-9243
Not sure when Annmarie is on in your time zone? Find out here: Time Zone Converter
Miss a show? Catch up on the VICTORY CHICKS RADIO podcasts! Now on YouTube!