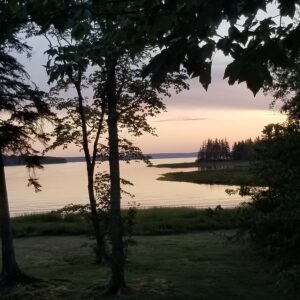 Our first full day here is what we call a "Downeast day." That means we stay at the cottage all day. Easing into vacation is always a treat after the craziness of getting ready to leave, finally leaving home, and then dealing with the travel. 
About midday Ollie stopped over. It's always good to see him…and get some of the dirt about the cove. This year the big news is that the "party house" around the cove (which used to be loud at night) was sold to Dick Wolf (Law and Order, Chicago PD, etc.). It's supposedly will be used as a place for his horses or something. The horses don't make as much noise, so it's quieter here – especially on the weekends. 
We settled into the cottage – moving a little furniture (like putting the kitchen table in front of the living room/cove view window). 
By late afternoon, we opened some alcohol and had our first vacation Happy Hour. Then I made an easy dinner of spaghetti and it hit the spot (as comfort food always does). We got to see our first sunset of the year – and it was a soft and pretty one.
Later Joseph and I started watching Season 3 of Broadchurch. This season is really, really good! 
Now I'm ready for some hiking – starting tomorrow…