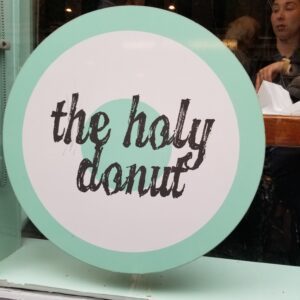 Portland in the morning is busy! Since our first trip here – maybe 10 years ago – the city has grown more and more vibrant. We didn't eat breakfast except to go The Holy Donut. I think those donuts – made with Maine mashed potatoes – are to Portland what Cronuts are to NYC. And, like NYC, there is a line that goes out their door and around the corner.
We walked to the place and waited in line – maybe for half an hour. When we finally got to order (toasted coconut, chocolate toasted coconut, pomegranate, and plain). I asked the clerk if they were ever not busy. She laughed and said, "Winter." Good for them.
We walked our donuts back to the hotel and enjoyed them with some tea in an open space area overlooking the Portland docks. I'm not a fan of either potatoes or donuts, but I was curious to find out why these donuts got such good write-ups. Now I know…and I may never get over The Holy Donut…they haunt my dreams. 🙂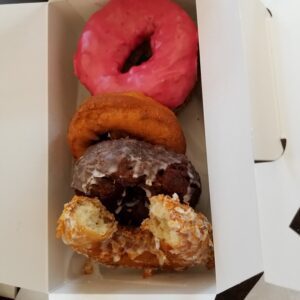 We full tummies, we started to get itchy to get on the road, so we packed our one overnight bag and checked out. Then we headed for the cottage – but not before driving past The Holy Donut and – since there was almost no line – Joseph popped in to get a couple more donuts for Sunday's breakfast.
Joseph and I left Portland and headed for Mt. Desert. We usually meander up the coast, and today was no exception. We drove up the coast on the local roads and back streets. Bypassing Freeport – a sometimes stop – we drove through Wiscasset. When we passed by Reds Eats, for a half-second we thought about stopping for a lobster roll (me) and a ribeye sandwich (he). But the line was it's usual down the street and around the corner – almost to the river. I know that line, and know it would take us an hour to get up to the window. We already waited in line at The Holy Donut – and that was enough lines for one day for me.
Driving up the coast another half-hour, and at the suggestion of friend Barbara, we decided to explore Damariscotta. I'm so glad we did! It's a quaint Maine town with a main street that's just about two blocks long. And – so typical of practical Mainers, it has two Reny's department stores – a Maine-made store that is also typical of the state. We passed on visiting Reny's and headed right for the Damariscotta River Grille. It was about 3:30, so we were between lunch and dinner and couldn't sit downstairs. But Happy Hour had already started upstairs – and that was good enough for Joseph and me!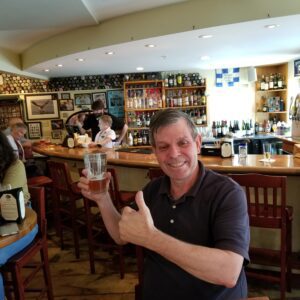 This place was so down-to-earth cute! The wall over the bar features a hockey puck décor – so you know what sport is this bar's go-to…and probably keeps them in business during the winter season.
When we got there, the bar seats were all taken and Joseph and I sat at a high top. The bar seats were all taken – which was fine for me.
Our server, a friendly kind of guy, I'm guessing in his late twenties or early thirties. He came over almost immediately. He asked where we were from and, when we said PA, he got excited. He's a Jersey Boy, only living in Maine since the spring. I asked him what brought him to Maine and Damariscotta and he said the Appalachian Trail brought him to Maine and a friend introduced him to the town. He's bartending until he figures out what he wants to do with him life.
I wanted a drink, but couldn't decide what. He gave me some wine suggestions and nothing appealed to me. Then I looked at a nearby table and the woman was drinking a Bloody Mary. I asked the server about it and he swore they were the best ever. So, while Joseph ordered an IPA, I ordered it – and he was right! Just the right amount of lemon and horseradish and actually used not-watered-down vodka. It was perfect with my burger.
If you think about Maine and want one of the least touristy places, this one is for you:
https://www.washingtonpost.com/lifestyle/travel/for-a-real-taste-of-midcoast-maine-as-it-was–and-should-be–head-to-damariscotta/2019/06/27/9deec5d0-8d28-11e9-8f69-a2795fca3343_story.html
We got to Ellsworth around 6:30 and stopped at Walmart for supplies. I could see the sun was setting and, for a split second, got annoyed that I missed seeing it at the cottage. By the time we got to the Windward Cottages and unpacked the car, the sunset – and its afterglow – were done. Oh well…I have 14 more to see this year!
It took us about an hour to set up and, by then, we were beat. It was a way-busier trip up than usual. So, instead of driving into Bar Harbor as we often do, we made ourselves a drink and relaxed watching some TV. It was an early-to-bed day…and I'm so happy being here.