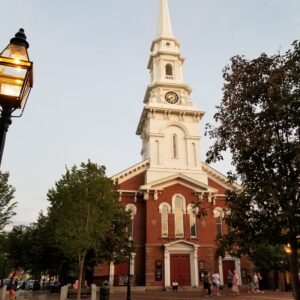 Started today with a little something to eat at the Howard Johnson's free breakfast…one of the worst "breakfast included" meals I've ever had – some yogurt and oatmeal. Then Joseph and I went into Portsmouth. We walked around the town and then drove through the town to an interesting place called the Strawberry Banke, We actually could have walked there, but we didn't know it, so we drove.   
Once we got there and realized what it was, it reminded me of Colonial Williamsburg – on a smaller scale, and along the water.  built during colonial times. the houses were actually lived in until 50 years ago. However, they hadn't been cared for or updated much.  From what I understood, they were something of an eyesore and were slated for demolition. That's when a group of citizens stepped in and saved it. Now that it's updated, it's a historical venue.
It was early when we got there and not quite opened yet. We couldn't go into the buildings, but we could walk the streets and peer in the windows. I'd like to see it sometime…but not this trip. However, we were able to watch what I think was a girl scout troop learning some camping skills. We also walked along the water and around a nearby park.
 I'm glad we walked the town first and did it very early. By the time we got back from Strawberry Banke, the town was waking up. We found a place to have a cup of tea and a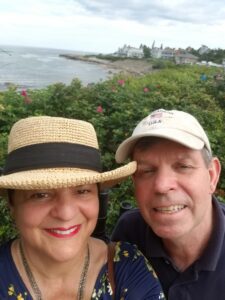 breakfast bun. Cute little place with tables outside. That's where we enjoyed our tea while watching people – tourists like us, people going to work, and local residents. 
We headed back to the hotel, but before going in, we stopped at the liquor outlet across the street. I was so disappointed that they didn't have any of my new favorite drink, the Smirnoff Vodka Mule mix. It was easy to use with diet ginger. And only two WW points! So I putzed around trying to decide what to get while Joseph perused the red wine section.  
We headed back to the hotel, showered, checked out, and headed for the nearby bridge into Maine. It's always such a thrill to drive over that bridge. In Portsmouth it was six states down, one to go…and then, once over the bridge, we're here. Little joys.  
We stopped by When Pigs Fly and got a couple things for Joseph's clients (who we were seeing later on), something for Ollie, and a couple loaves of bread to take with us.  
Then we met Robert and Michael at a Greek restaurant for lunch. It's always fun to see Robert. I swear Robert and I were sibs in another lifetime. They aren't so enamored with their restaurant anymore. But we laughed and had a good time. Maybe I'll see them on the flip side. 
We left there and headed for Kennebunkport. We were meeting Joseph's clients. They wanted us to go to a restaurant in – someplace – and take us by boat. I really like them, but I'm not enamored with boating. It was a long ride to the restaurant and I white-knuckled it up and back. I was glad to be back on dry land! 
It was late by the time we checked into the hotel in Portland. We were both hungry and walked up to Congress Street for drinks and nachos. 
When we got back, we moved the sofa to the big picture window that overlooked the bay. Then, for the first time since we left, we got to be together and relax to the view of Portland's Old Harbor. The hotel was expensive, the experience of that closeness…priceless!!