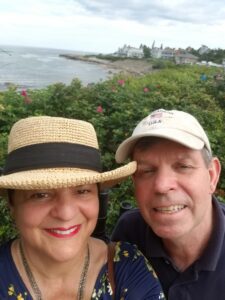 The journey begins. Or as one of my friends calls it, my annual pilgrimage to our happy place.  We were already packed so all we had to do was pack the car, turn off the water, water my plants, and as I usually do, visit every room. We finally left home about 9am, making a stop at WAWA for breakfast sammies and tea and the big post office to get the bills out.  
The trip north was (happily) uneventful except for the multiple construction-related traffic jams. Way too many! It's good that Joseph and I travel well together otherwise we would have killed each other in several bumper-to-bumper traffic jams – mostly because we're in my Mazda and it's a stick shift. Driving stick is a joy for me, except in traffic. Joseph has no patience in traffic even with his car, an automatic.  We long-ago decided that, if Joseph's driving and we get stuck in a traffic jam, I drive…even if we have to pull over to switch drivers
Around 2:30 we stopped at Cracker Barrel in MA.  Then we finished our trek north, checking into the Howard Johnson's in Portsmouth NH around 6pm. The place was just OK. The clerk checking us in clearly doesn't like working for HoJo. She couldn't have been more unhelpful if she worked at it! We dropped our overnight bag in the room and left almost immediately for town.
Next year we'll stay right in town…better for many reasons. The biggest reason is that, though we stayed in Portsmouth once before, neither of us remembers it being such a vibrant and busy town. We stopped this year because my friend, Helen, goes every year and raves about it…so we gave it a second try.
I'm glad we did! It was energizing after our long drive! 
We walked around the town and settled on the RiRa bar for a drink and something to eat. It got a good review on TripAdvisor and we liked the sound of music coming from inside.  
We ate brunch so late that we weren't really hungry. Still, we ordered drinks and a sandwich to split…a Reuben (which was made almost perfectly). 
The band, Byrne Brothers from Donegal (who are apparently famous from some TV show they did) was good – and as much fun to watch as to hear. I didn't know. Apparently, they made a name for themselves playing Disneyworld, and they were filmed for some show and developed a US fan club.
This night it was only two of the three brothers, with Dad stepping into brother#3's spot. They played everything from guitar and banjo to flute and bagpipes – and all kinds of music from classic Irish tunes to John Denver. 
We got back to the hotel around midnight – a long day, but a safe trip and a good night!