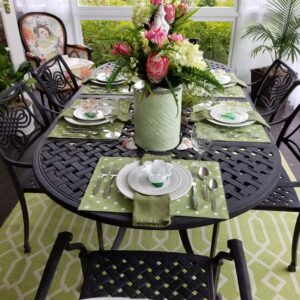 It was supposed to rain today so we didn't plan a hike. Instead, we planned a trip to the new Bar Harbor Historical Society's new home – currently being used as the fundraiser design house LaRochelle. What a history!  Built in 1903, right on the bold coast in Bar Harbor, it was a residence for many years, including during (and surviving) the famous Bar Harbor Fire in 1947. In 1972 it was donated to the Seacoast Mission, an organization that serves the many isolated coastal and island communities. When they moved to Northeast Harbor, the house was bought by the Bar Harbor Historical Society. The BHHS turned it into a one-season show house to help pay for and make repairs to the property before moving into it. The rooms looked amazing! https://mainehomes.com/larochelle/
I  could have stayed there all afternoon – and practically did! Sitting on the back porch. seeing gardens originally designed by Beatrix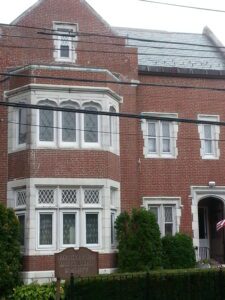 Ferrand, and imagining what it must have been like to live there was fun. When I come back, I'll be curious to see what the BHHS has done with it. Their current home is in the old Catholic convent, once the residence of St. Catherine Drexel, whose family summered in Bar Harbor. Her sister had the convent built so Catherine could visit her and her family.
We left there, went to Havana so Joseph could get one last Havana burger and beer at this place. I had some cheese thing that I shared with Joseph as an appetizer. It was freezing, so I had an earl grey instead of a cocktail.  
We got back to the cottage and I defrosted a pork chop leftover before leaving for Schoodic and the "FlashInAPan" band event. Donna Debs told us about the group. Initially, it was to be an open-air event, but with the imminent threat of rain, the band decided to move it indoors to Hammond Hall in Winter Harbor. I was glad – It's cold here and the rain made it a little bitter. Indoors suited me!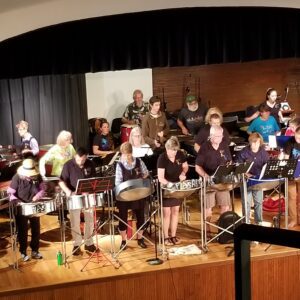 What an unexpected treat this band was! Whodathunk there would ever be a group that played steed drums? But there they were – about 15 locals, ranging in age from teens to retirees – making joyful noise and encouraging everyone to join in by dancing…and plenty did so, including me and Joseph and Donna and her spouse, Ray. They played for about 90 minutes and it was clear that the audience knew and loved the group. I was amazed to see all ages of people dancing – from toddlers to older folks – and so many dancing alone – and with happy abandon. I was reminded of that quote "Dance like no one is watching" – because they did! 
The Design House and the steel drum band were both something different. It was an unusual Mt. Desert day, but a good one! https://www.wabi.tv/content/news/Designers-transform-historic-seaside-home-in-Bar-Harbor-512653671.html