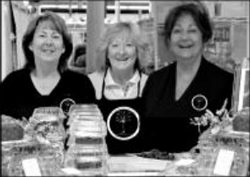 The Prosperity Sisters
The recession socked quite a punch to Carole Algier. For nearly thirty years the glass artist ran a successful business with her spouse, John. Her work was featured in several magazines and on HGTV's "Smart Design" show. But when people started cutting back, the stained glass window treatments for which Carole was so famous became luxuries. It wasn't long before she and John were about to lose everything, including their house. So, in May 2009, Carole closed her studio.
Starting over in mid-life isn't where Carole imagined she'd be in her fifties. But there she was, wondering what to do and how to get back on her feet. That's when she had a heart-to-heart with her sister and best friend, Sue Katein, a retired corporate manager in her late fifties.
Carole and Sue are two of seven siblings. "Twins with different color hair" is the way their spouses describe them. They grew up hard. The sisters laughingly say, "We were raised by wolves," because their parents sold their house, bought a hotel and turned it into a restaurant and catering business; the hotel also served as the family's home. Food was a central theme in their lives. So too was the understanding that each child had to find his/her own way in life.
Over the years the sisters sometimes catered special events, like family weddings and dinner parties, along with a third sister, Kathy Lanyon, a Global IT manager. Sue, the true baker of the trio, had a reputation for making a killer amaretto cake that was almost legendary in her circle of family, friends and co-workers. She used only the best ingredients and, since it took two days to make, Sue reserved the cake for special people and special gifts. Whenever people asked if they could buy one, Sue always refused; she didn't bake for money, she baked for love.
However, Carole, Sue and Kathy often talked about starting a food-related business together. While it was always something they put off for "down the road," on that day in 2009 it was different. Carole told Sue and Kathy that the time for talk was over. She announced, "We're in our fifties and I can't waitress anymore. It's the time for us to do it."
In the beginning, they had the tiniest of budgets for ingredients and marketing. So they started with Carole's special-recipe bread and a "spirited" butter. Carole contacted past clients from her art studio, thanked them for their past business and introduced her new venture. Many past clients gave them sales leads. They rented firehouses and other places with commercial kitchens and often baked the bread in a rental's off-hours. Thanks to one of Carole's client-leads, they formed a relationship with a baker at a local farmers market; they sold bread there and also filled special orders for organizations. But after one very large order had a disastrous result, the sisters decided, "We just can't do the bread." It would be the cake or nothing.
Fortunately, shortly before Easter, the owner asked if they had anything else they could sell. They decided to make and sample Sue's amaretto cake on the Saturday before Easter. The sisters made fifty cakes and Sue bought festive pink boxes for them – beautiful hostess gifts for busy guests. They displayed the cake boxes at their sample table. Then they waited, hoping the cakes would sell. And sell they did – and sold out within three hours! The sisters, a little stunned but totally happy by the enthusiasm for their cakes, realized, "This is what we should be doing!"
The following week they sampled their cakes again, often to men accompanying their spouses on a shopping trip. The sisters started to see a pattern and discovered the "wait for it" moment: a man would take a sample, walk away and then stop. They'd "wait for it" together as the man turned around, wide-eyed and happy, and came back. "Some men would buy the cake just for themselves," Sue laughs, "and sneak it into their cars. That's how we started making the small size – so the men could buy cakes to easily stuff into their pockets without the cakes being noticed." According to the sisters, it was the "wait for it" experience and the enthusiasm of the buyers that gave them the shot in the arm they needed to take their baking to the next level.
Soon the sisters found a commercial bakery which was also experiencing a loss of business due to the economy. The bakery's owner suggested that they do the baking for the sisters. It made sense – they'd bake the cakes, leaving the sisters free to focus on product development, marketing, sales and fulfillment. The baker worked for three months until he perfected a commercial recipe that met the sisters' approval. Finally, it was done.
Next, the sisters added three more flavors (chocolate raspberry liqueur, mango coconut run, and limóncello) and called them "Prosperity Liquor Cakes" after a bakery item Carole sold when she worked in a bakery as a kid. Carole remembers, "People came from all over for the prosperity buns," adding "And that's what we want for our cakes too. And we're 'pay it forward girls' so we don't just want prosperity for us, we want it for everyone else too."
As their idea gradually looked more and more like a business, they rented a small office. Carole designed the company logo, Kathy installed the company's computer system and Sue set up the accounting and inventory systems. Carole explains that each sister's long history of varied work experiences contributes to the process and "We all bring something different to the table."
Though the sisters knew they didn't have money for advertising, Carole, the risk-taker, was undaunted. She started a grassroots marketing campaign that included contacting stores like Neiman Marcus and television shows like Martha Stewart – which invited the sisters to make the amaretto cake on the show. However, they decided to pass because the producers wanted to give the recipe to viewers. "We were still new and," Sue confesses, "I just wasn't ready to do that."
But while Martha Stewart didn't work out, Rachel Ray did. Featured as Ray's Snack of the Day, they brought one hundred sixty cakes for Ray's audience. And because a company must have a website where Ray's viewers can purchase the Snack of the Day, Kathy and a friend set one up – and that's when the Full-Spirited Flavours website was born.
Though when they first started, the sisters admit their business skills were limited, they have good minds, a serious willingness to learn, respect for their complimentary talents, and a lifetime of experience. Also, they are fast learners. And, most importantly, they trust with each other. They also have the solid support of their spouses, John, John and Jack ("the J Team") who pitch in when needed. And their siblings also help out from time to time. Most importantly, Sue says, they each embrace their core incentive, "it's all about doing it together."
The sisters share the secrets of their success recommending that other women, who have passion and desire for their own business, keep these in mind:
"Believe in what you do and be grateful that you can do it. Yes, we know we have a really good product that makes people happy. But we don't take our sales or successes lightly. It means something to us they people are buying what we have."
"Don't be afraid to say, 'I don't know'. If you never ask, you are always in the dark. But if you keep asking, someone will have the answer and guide you forward." And sometimes, they want you to know, some of them will also be willing to help you take the next step.
"Don't take 'no' for an answer. " The sisters keep a white board in their office with the names of places they want their cakes to be. It's a visual reminder that they keep trying until you get the "yes" from one (or all) of them.
Laugh. "Whatever we do, we laugh. It makes everything better."
Congratulations, Sue, Carole and Kathy!
Women helping women everywhere
can embrace your mantra of
"Teamwork Makes the Dream Work!"!
You can get the sisters' amazing Prosperity Liquor Cakes at www.fullspiritedflavours.com