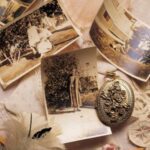 Today I continued my purge in the loft. It amazes me how, for someone who isn't a pack rat and who doesn't have a lot of storage space, I was able to accumulate a lot of "stuff" in one closet and a couple drawers.
I pulled the closet apart and sorted, putting memorabilia into one box. If it didn't fit, I tossed it. For some very sentimental things, particularly pictures, I gave myself a temporary pass and put them in one spot for later inclusion into a scrap book. I'll make it a vacation project!
But the worst of it is done!
After lunch, I still had motivation to start working on my bedroom. All I tackled was the closet but that had the most of the old and unnecessary stuff. My motivation was good, but my stamina wasn't. I found things that belonged to my mom and some things that I wish I still could wear – and can't, either because of size or style. But I persisted in my purging and now the closet feels so good! I can actually find accessories that I wasn't using because they weren't easily visible.
Overall, it was an emotional day.
And here's the best part: As of Friday, I'm realized I'm already seeing the results of "open space" showing up in my life, in terms of energy and business!