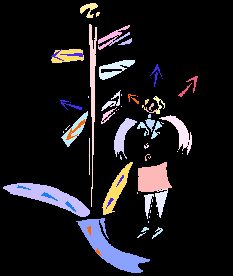 Do you feel like the success you want – in your life, your relationships or your job – just never comes your way? If you do, maybe a starting place for attracting your success is to figure out what you need and how to get it.
Competence comes in all shapes and sizes, and your level of competence can often explain a gap between where you are and where you want to be. But if you don't know what you don't know, you can stay stuck for life.
At the same time, once you understand the Four Stages, you can get a better handle on what you need to do…and relax into your own process. Over the next few days, I'll explain all Four Stages, starting today with Stage One: The Unconscious Incompetent
Competence and Success: Stage 1 –  The Unconscious Incompetence
"Doesn't have a clue" is a common phrase we use these days. It's a good description for the unconscious incompetent. It means you just doesn't know what you don't know. It's pretty common, such as:
You start a new job and have no clue about the office politics
You're in menopause but don't know it yet – wondering if you could be pregnant
You're on your own for the first time in your life
If you don't know, you can't move to the next stage until you recognize that there is something you don't know. For example:
In life: you don't understand or acknowledge the importance of taking care of your SELF, specifically, self-care, self-esteem, self-confidence, and self-actualization. Or maybe you do but thinks being self-sacrificing is a plus instead of a deficit.
In a relationship: you can't understand why every relationship turns out the same way – with her getting the short end of the stick.
At work: you work hard and do a good job but never gets the kudos – and the promotion – you deserve. All you get is resentful.
Victorious Woman's Nancy Hill (Chapter 5) was like that for a long time. She grew up poor and was raised to think her only worth was related to her service to others. By the time she was thirty, she had three sons, an abusive spouse, lived in an unkempt house and had no thought that anything could be better.  She didn't even think there was anything more that what she had. She was unconsciously incompetent – she didn't know what she didn't know.
That is until she met Sadie who showed her new ways of living. She encouraged Nancy to read books, and when she did, Nancy got a bigger picture of life and had new ideas and dreams.
Once Nancy knew, she was still "incompetent," that is, she didn't have the skills yet to do more and better, but she was no longer "unconscious." Instead, she'd awakened and moved to the next stage of competence…
---
More Articles from this month's Victory Theme
Competence