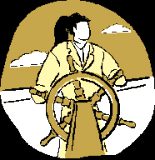 This month's theme is Leadership and it includes Business Planning for the New Year.
Sounds boring, doesn't it? But what is it about leadership and business planning that is so much like a thud?
Do you think leadership is just for top level executives and business planning is something small business owners have to do? And, if you don't work for a corporation or have a business, then you don't need either one? Or maybe you're thinking that you don't want a career path anymore – you want a retirement path – and you don't need a business plan for that, do you?
Well, if your thinking follows any of those ideas, then you're missing the boat!
Here's what feminine leadership is: you being in charge of your life. It's what I often refer to as SELF-control. If you aren't the leader of your life, in control of the authentic you (your real SELF), then someone else is – and you're following them. While you are, there's a really good chance that they might not be leading you in the direction you want to go. And even if you are going in the same direction, for example, if you have a joint goal, you still need to be in charge of your SELF.
And Business Planning isn't just about some company's business or goals. It's about YOU INC. It's the business of life – the one that's for and about you.
This month I'll be giving you some ideas for how to get in the drivers seat of your life, and what to do when you get there.
Don't miss my popular Vision Board class. I'm giving it on different days and at different times so, one time or another, you can definitely be there so you can get ready for the New Year: Dream Big Dreams in 2013