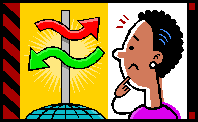 Communication is what happens when one person sends a message (says something) to another AND gets a response. It's all four parts. If it's only me talking, that's a statement not communication.
This month I'll be exploring communication in two ways: the me-to-you kind and the me-to-me kind. Obviously, me-to-you communication is important in business and relationships. The emotionally intelligent woman, however, is the one who knows how to do both. Author Pearl S. Buck said, "Self-expression must pass into communication for its fulfillment." So, as good as you might be (at anything or everything), you could be sabotaging your own success if your internal dialogue (me-to-me) undermines your confidence and skills. Confused communications will always create problems.
When you speak, are you clear? Do you…
Dance around an issue because it's uncomfortable?
Do you hope the other person will "get it" without you having to elaborate?
Give mixed messages – to others OR to yourself?
Notice the same messaging problem happening frequently?
This month notice your communication skills and check back for more information.
In victory,
Annmarie