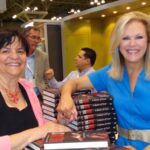 Meeting Lis Wiehl at the book expo was a treat…and a surprise.
Lis Wiehl has been around for a while. She's a lawyer, legal analyst, professor of law and best selling author. I first found out about her on The O'Reilly Factor where she goes toe-to-toe with the host on the weekly "Is it Legal" segment. Any woman who can hold her own with Bill O'Reilly has to be good; I quickly became a fan.
Last week I met her at Book Expo during the signing for her new book, A Matter of Trust. I was looking forward to meeting her and she did not disappoint. Lis Wiehl is one of the most personable and down-to-earth authors I've ever met in a public forum. She got to her signing without a lot of fanfare, almost as though she was arriving to teach one of her classes at New York Law School. When she saw the line of women waiting to meet her, her face lit up. You might have thought she just saw a group of her best girlfriends. And that was how she treated each woman for whom she signed a book.
When it was my turn, I joked with her about O'Reilly and she was right there with me. Then we took some pictures and she couldn't have been nicer. As I left the booth, she said she hoped I enjoyed A Matter of Trust and, noticing my wedding ring, said she hoped my spouse enjoyed the book too. I walked away feeling like I'd just been out to lunch with a friend.
In my experience, it's a special quality that enables anyone to connect like that in that short a time. And while we love to believe that the celebs we like are always nice, I've been around authors for a long time and I can tell you it isn't always the case.
I'm only five chapters into A Matter of Trust, and I'm already hooked into the mystery of Mia Quinn's life. In the throes of a life transition and a return to work, the newly single mom is on the phone with her colleague, Colleen. They're gabbing about a case and a garage sale when Colleen is shot. Mia calls 911 and then gives the phone to her teenage son, instructing him to listen for Colleen's last words (just in case she identifies her killer) and watch over her sleeping four-year-old daughter. She runs out of the house and heads for Colleen's. When she gets there, the phone line is still open but her son isn't on the line. Instead, all one of the homicide detectives can hear is Mia's daughter screaming.
If you are looking for a good read, give this one a shot.