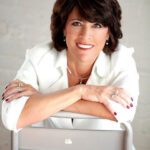 If you're a woman who doesn't run with the herd, you'll want to be at this week's Happy Hour with Annmarie and Fawn Germer. You probably know Fawn from her book Mustang Sallies (my favorite) or Hard Won Wisdom (Oprah's favorite).
I'm going to ask her what she's learned from some the famous women leaders she's interviewed – including the strategic move that got her an interview with Hillary Clinton.
Learn more about Fawn at www.fawngermer.com and www.hardwonwisdom.com

So pour yourself a glass of wine or make a cup of tea and come to Happy Hour at 1520am or online at www.WCHE1520.com. Talk to you then!
Update! For a limited time, this show is available to listen to for FREE! Find it here.