Women, Communication and Leadership
is this week's Happy Hour conversation!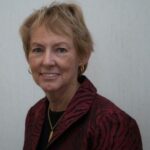 Peggy Smith is coming to Happy Hour to have a conversation Peggy and I have had more than once. We're taking a look at why so few women are interested in stepping into leadership in the workplace. It's so odd, especially since most women are the "take charge" person with the kids, the home, home and school associations, fundraising events and a host of other really important jobs.
Peggy Smith's training company focuses on communication skills, including business communications. She believes passionately that communication is the single most important skill that can help organizations and individuals, regardless of language, culture, or class, reach their desired goals.
You can learn more about Peggy at www.smithandassociates.info.
Also, find out why I almost had to eat my own words about grudges! AND, instead of Chick Chat this week, I have something special for you!
Pour yourself a glass of wine or make a cup of tea and join the conversation. It's Friday at 3pmEST, live and local on 1520am and live and online at www.WCHE1520.com. – See more at: Friday Happy Hour