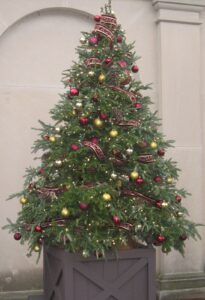 Christmas Holidays: Glad to see 'em come, glad to see 'em go. That's what one of my co-workers used to say. I thought she was a scrooge, but now I know she wasn't. She was on target.
Knowing how overwhelming the weeks between Thanksgiving and New Years can be, sometimes just the thought of the Christmas holidays creates stress. You might not realize it, but the commercialization of the Christmas holidays is stealing your joy. This year, don't let it; be different.
Here are ten tips you can use to make Happier Holidays. If you just pick two of these and embrace them, you'll see the difference – and you'll start the New Year happier!
1.    Decide that this holiday is going to be joyful; make it your intention
2.    Pick 3 happy holiday memories to recall when stressed
3.    Challenge every tradition and eliminate outdated ones
4.    Carve out time for the people you really want to see
5.    Say 'no' to "obligation invitations"
6.    Take a 5-five minute Laughter break every day
7.    Take breathing breaks each hour
8.    Enjoy sugar and alcohol only when socializing
9.    Avoid the negative people, alcoholics and drama mongers
10. Focus your attitude on gratitude
Merry Christmas!
May this holiday season be one of your happiest years ever!