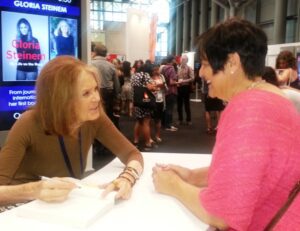 I waited in line for almost an hour to meet Gloria Steinem to get a signed copy of her latest book, My Life on the Road, and to invite her to Happy Hour.
It was a long wait but it wasn't wasted time.
First of all, between her and her publicist, I'm pretty sure she'll be joining me at Happy Hour– I'll let you know when she's coming, both through my newsletter and on Facebook at VictoriousWomanProject.
Interesting Women from different Worlds
Secondly, the line was long and I stood between two interesting women from opposite ends of the "Gloria spectrum." The women in front of me was (maybe) twenty-five. Everything she knew about Gloria Steinem was historical: the rallies, Ms. Magazine, her eleven days as a Playboy Bunny, the National Women's Political Caucus, being the first woman to speak at the National Press Club and, of course, her many political crusades. But the bulk of Steinem's activism happened in the 1970's and 1980's, before she was born. What she knew about Gloria Steinem up to that moment came history books, not her personal history. Steinem's feminists views were cutting edge back then but today the young woman simply accepted them as facts of life.
It was very different for the woman, probably around seventy, standing in line behind me. Though she waited alone, from time to time her many girlfriends came by to chat.
When they did, they talked about Gloria the way young girls talk about their older sister – a little love, a little awe and a lot of respect.  They said things like, "Have you seen her yet?" and "What are you going to say?" or "I just saw her and she looks good." It was fun to hear them.
As we waited, that woman asked me to take her picture with Gloria. I told her I would if she would do the same for me. We made out pact and waited.
I continued to chat with both women to pass the time. After what seemed like forever, the line shortened. Finally, it was our turn.
Curiously, I watched as the young woman walked to the autographing table. They greeted each other and Gloria signed her book. Then the young woman thanked her, took her personally autographed copy of My Life on the Road and walked away. Done.
Next it was my turn and, to my surprise, I got a little overwhelmed.
It isn't every day I meet a feminist icon.
I babbled a couple of words; I felt embarrassed. Gloria started to sign her book to me.
But, happily, I gathered myself and asked Gloria how it was for her, at age 81, to have so many women still so excited to meet her. Looking me right in the eyes, she was graciously excited as she talked about being grateful – for that moment and for all the moments of the life she's led that got her to that place on that day. Amazingly, in spite of the thousands of people milling around, for a few seconds we were having a private, meaningful conversation.
Fortunately I had the presence of mind to leave my business card with both Gloria's publicist and one of the publisher's handlers. The latter is the one who took the pictures of Gloria and me chatting.
As I moved away, the woman who'd been standing behind me jumped into place – not in front of the autographing table, but behind the table, next to Gloria. By then, one of her girlfriends had come back and started taking pictures. They were having fun. And it seemed like Gloria was having as good a time as they were. Of course, I don't think the handlers were so happy, but by the time they could do anything about it, the pictures were taken, the book signed and the moment passed.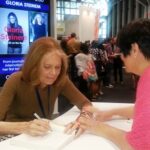 When I posted the picture on FB, several women wanted to know what she was like. The one thing that lingers in my memory of the soft light shining in Gloria's eyes. Even at 81, she still has a lot of spirit. It's softer now than it must have been thirty or forty years ago, maybe with a little less fire, but no less sparkle.
Honestly, it was exciting! I can't wait to talk to her on the air. Between now and then, I'll be reading My Life on the Road. I'll let you know how it is and when she's coming to The Friday Happy Hour. I hope you'll join us!