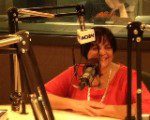 Today is about HAPPINESS!! First, it's the TWO-YEAR ANNIVERSARY of the Friday Happy Hour. I'm really happy about that…and I THANK YOU all for joining me for Happy Hour each week. Whether you're listening while sipping a little wine or still at your work desk, I'm glad you stop by each week!! THANK YOU!!!
Ambassador to Happiness
And today's conversation was with the Ambassador to Happiness, Maura Sweeney! She's right…happiness is an inside out job! You can find more about Maura at her website: Maura Sweeney. And, as because you're a listener of Annmarie Kelly's Friday Happy Hour, Maura is gifting you a link to her book: Exiting the Comfort Zone
Vision Board Instructions
If you missed my Vision Board show last week, you can still listen to the podcast – BUT DO IT FAST!! It will only be available for you on the WCHE website until Monday: Vision Board Podcast
Responding to Public Insults
I talked about how Carly Fiorina is no shrinking violet. When Donald Trump mocked Fiorina's looks, not only did she reason that she must be getting under Trump's skin, but she came out with a FABULOUS commercial. If you missed it, here it is: The Face of Leadership
Let's Hear From YOU!
If you have suggestions, or comments, please leave me a message here (below in the comments). And you can like me on FACEBOOK and follow me on TWITTER
I LOVE hearing from you!!
HAVE A GREAT WEEKEND AND COME BACK FOR HAPPY HOUR NEXT WEEK, 3PM, ON WCHE1520.COM